This is a deleted post so everything is posted as it is.
I hate tablets nd even visiting doc for simple cold and cough… I always try taking some home remedy for simple cough and cold….these are best homemade candies for cold or cough or you can just enjoy then even without Cold ;)
I remember those childhood days when we used to get packets of bendi at home and just chew them whenever we feel like eating something sweet n spicy or any time we had sore throat it wud act like a quick soother.
These days its very difficult to find bendi's at store in Mangalore…. And may be these days kids don't even know about this……
Mamama made these cutie chews for us.
Love U Mamama
J
J
.
So if any one of you have sore throat you can make these chews at home….
Here is the recipe for bendi:
Jaggery – 1 cup (Use the jaggery which we use to make laddoos)
Dry ginger powder (freshly ground is really good) – 2 tbsp
Freshly Ground Pepper Powder – 4 Tbsp
Dissolve jaggery in water
Strain and remove impurities.
Put the dissolved jaggery in a pan and boil it down to a syrup of hard ball consistency.
You are able to roll the syrup in a ball, if a little quantity of syrup is dropped in cold water. Lift the ball out of the water and drop back into it, if it falls with a sound (tung)on hitting against the plate or kitchen counter of the bowl then the syrup is done.
Now add dry ginger powder and pepper powder and mis well.
Heat for another 5 minutes till thick and remove the syrup on a plate (apply ghee on the plate so that it doesn't get stuck).
When hot itself make small balls and keep aside.
Roll these balls either in silver foil or plastic wrap and Store it in a Air tight container.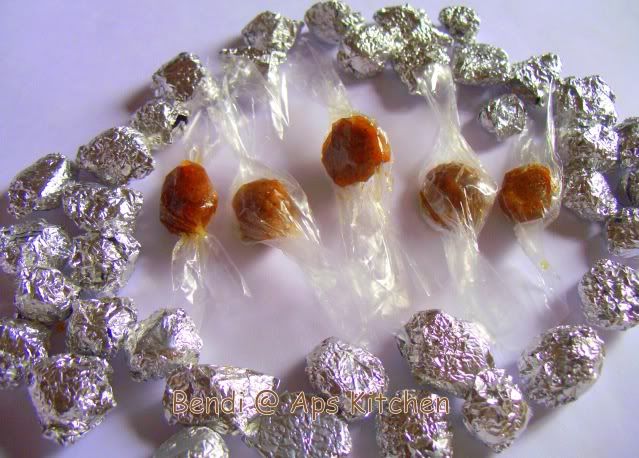 Enjoy the chews when required.
I am sure you guys will try this out and Enjoy!!!! Or If you have a sweet mamama (granny) like mine you can always tell her to make it.... she will always love to
J
J
J
.
Take Care, Eat Healthy Be healthy,