Udid Rulava Polo with Gajbaje
This Is a deleted Post and i have made no changes in this.
Udidh Rulava Polo (Urad Dal and semolina Crepe)
Soak 1 cup Urad dal for 5-6 hrs and Grind it into a fine paste and allow it to ferment overnight.
The next morning mix 2 and half cups of semolina rawa in the Urad dal batter add salt to taste ans mix well (keep the batter semi thick)
Heat a gridle/tawa sprinkle some oil and spread a ladle full of batter and fry both sides until brown.
Remove from pan and serve it vth ur favourite side dish.
Here is how I prepared gajbaje:
3 Phagil/ kantolas/ wild gourd (diced)
Phagil/Kantola/Potol/wild Gourd
1 Raw Banana peeled and diced
Bamboo shoots diced – 1 cup ( I used this more as we love it)
Surnu/suran/elephants foot peeled and diced – 1/4th cup
Magge/ Yellow Cucumber – ½ cup (diced)
Ambado/Amte Kayi/Ambhazanga/Ambrella – 1 crushed
Jackfruit Seeds- A handfull peeled and boiled
Salt to taste
Wash all the veggies, boil them and keep aside.
For the Gravy-
Fresh coconut grated – 2 cups
Fried Urad Dal – 1 tsp
Fried Red Chillies – 12 (if they r spicy use 9-10)
Grind all the ingredients into a fine paste.
For seasoning-
Oil – 1 tbsp
Mustard seeds – 1tbsp
Curry leaves -10-12
Now in a large vessel add all the veggies and keep them on flame, add the masala(for gravy),salt to taste, and get it a good boil once u c lozza bubbles remove from flame.
Heat oil add mustard seeds once they splatter add curry leaves and season it on the Gajbaje. Now the Lovely Dish is ready to serve.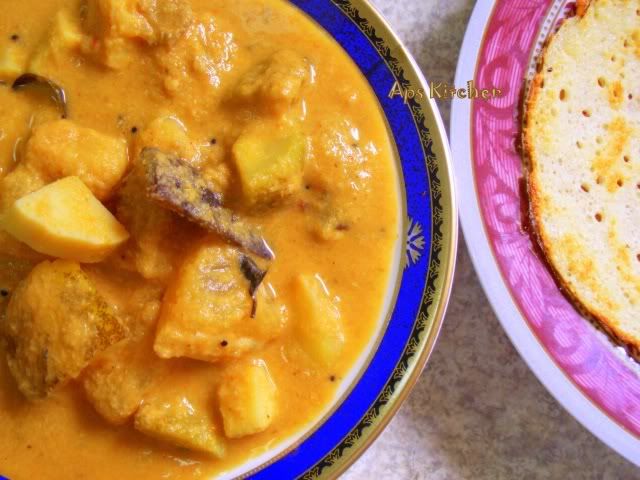 If u want to make a dish Tasty then add lozza Love into it.
Happy Cooking!
Aps