Pickle Mania #4 -Ambadi Ani Loshne Nonche / Tender Hog Plums and Garlic Pickle
Hello Everybody!!!!!
As I keep telling my mom makes awesome pickes…. She has a good pantry for pickles. Where I relished each nd every one.
Whenever I feel like making ne pickle I just call her nd ask for the recipe. She always has it on her tongue but all eye measurements :P
Its tender hog plum/Ambadi season now and we had to make a make a pickle now…. This is not my Moms recipe its My Darling Mamama's recipe she makes black color pickle awesome…..
I had made this one a month back and its all empty so I was craving for more nd tht too this time I wanted my Mamama to make it for me…
She literally was doing a pickle after 5 yrs…. Yeh u heard it ryt 5 long yrs… Nd mind me it was the same yum taste….
I could not take a click of her pickle as we have finished it off.. :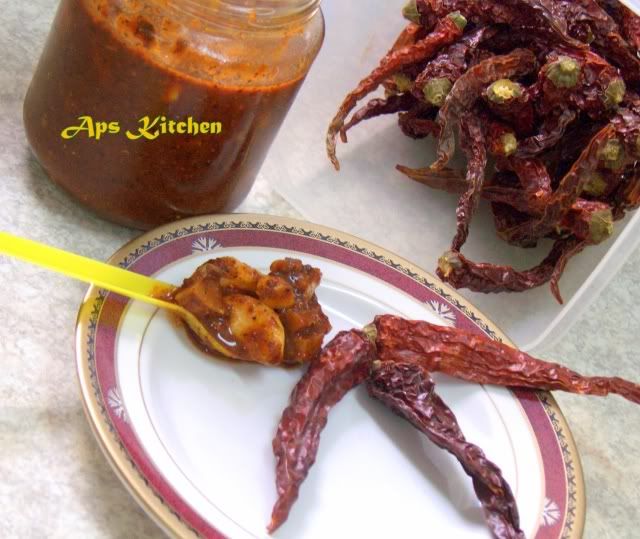 One who loves tangy pickles nd loads of garlic will love this pickle.
Hog plums/ Ambadi – 30-35
Garlic peeled, crushed and fried in 1 tsp oil – 20
Sea Salt as required (I used a cup)
Hing/asafoetida – a peanut sized ball or 1 tbsp of hing powder
Wash the Ambadi, and dry them with a clean cloth, Now Cut the hog plums into halves.(Make sure they are tender)
Dry roast mustard seeds, chillies, turmeric, hing in a deep bottom pan and make a fine powder out of this.
Now in the same pan Add the cut hog plums and add salt to it and roast until salt melts off.
Now switch off the flame and allow it to cool.
Once the Ambadi cools down add the ground pickle powder and mix well. No need to add water as the pickle will leave its own water.
Store it in a air tight container and relish it when u need.
The pickle is to be relished after 2 days as the hog plums and garlic will absorb the salt nd spice.
Tastes Yum Yum when u add lozza love in it.
If u don't find hog plums/Ambadi, not to worry u can try this with raw star fruit or only vth Garlic, or even with Raw mangoes.
I m sure all of u will like this nd atleast will try ne variety of it.
Lots more varities of pickle to come here!!! Keep waiting
J