Narayan Kataar / Nan Katai
Naan Katai / Narayan Katar
A yummy eggless Indian cookie and its absolutely easy to make with minimum ingredients. And this was the Very first baked goodie I had made in my life... And when all the efforts written gets deleted it really hurts but yes better late than never so here i am blogging it again for all of you.
Narayan Katar is a Konkani word for Naan Katai…. I really donno y is it called so…:D.
Amma used to make them and give it to a near by bakery (as they were family freiends:D). she used to make these goodies especially for me… not to forget for my dad too… but lots for me :P.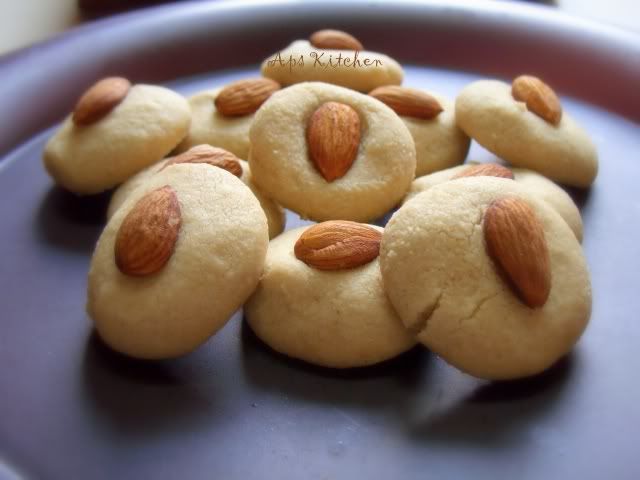 3/4th cup wheat flour


3/4th cup powdered Sugar


½ cup ghee (adjust according to the mixture)
1/4th tsp baking soda
Almonds to decorate (optional, Amma never used it though)
Add powdered sugar and ghee in a bowl nd mix well until creamy
Now add wheat flour and Mix gently with hands until it comes together.
Roll it into round lemon sized balls and dab the cookie in between and place a almond on top of it.
Bake 12-15 minutes until the katar turns
light golden brown in the bottom
.
Remove from oven and let cool on the baking sheet for a minute.
Transfer to a wire rack to cool.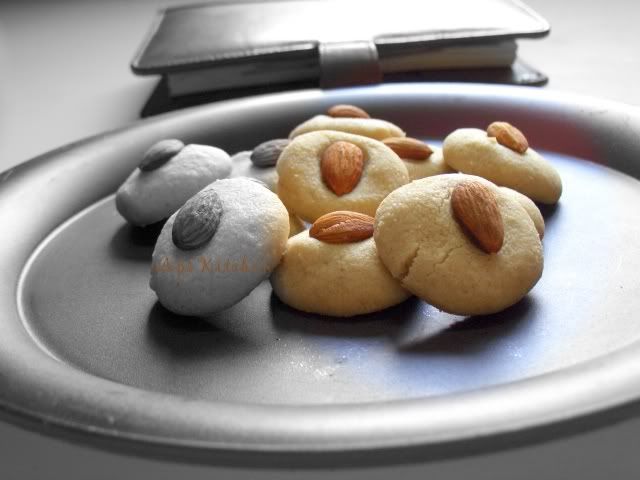 Tastes Yum Yum
when you add lozza love
in it.
Till later then
Signing of