Buns- Hot Cross Buns - One a Penny 2 a Penny Hot Cross Buns
The Slogan "No one can eat just one" goes very well with these................ Its one of my
favorite
.. breakfast item..... Amma used to give the responsibility of mixing and frying the buns To Me
J
J

J

and it was like a big task which I did.... sometimes i used to run away telling I will not mix the peet ( dough) let bro do it I will roll them and fry them that was what i used do....
She Taught me Cooking at the Age of 11 itself............. I mean the basics of kitchen.......... as years passes by i started my experiments.............. And mom always gave a Chef opinion as to what was missing and the exact mix of flavors and so on............
I m so Thankful to her for teaching me the A-Z of kitchen.......... because i was never hesitant when i was alone myself to cook..... Thanks Amma. Love U.
The credit of teaching not only goes to Amma it even goes to my Mamama( mom's mom)........ She took care of me soo sooo much and I love her tooooooooooo much.......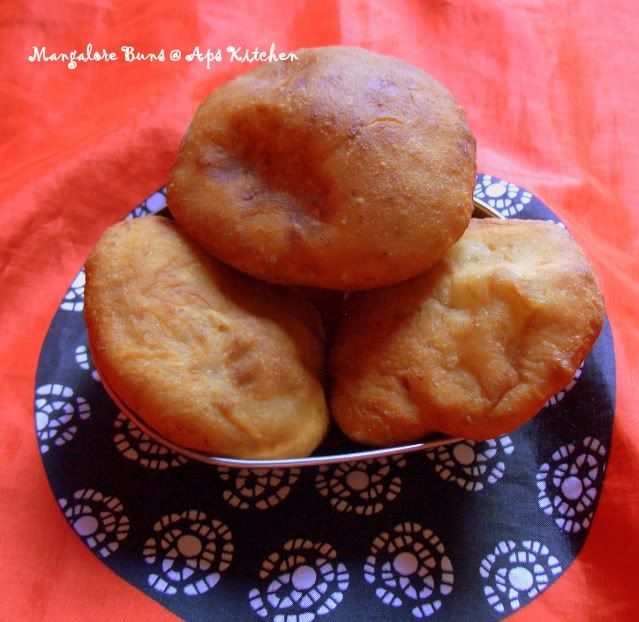 Now to todays topic........... Mangalore Buns...........
When I speak about buns I remember the Rhyme.... Hot cross Buns Hot cross buns... one a penny 2 a penny hot cross buns.. I remember almost all rhymes taught during KG classes :D
These Buns are not like the normal baked buns....... they are fried...It tastes nearly to doughnuts.... It tastes Heavenly when dunked in hot cuppa Coffee and enjoyed.......... Dad nd I love it that way!!!
It can even eaten with green chutney or Daali toy!!! (vch is not of my taste with buns)
They are sweet, soft and fluffy.... totally Yum
1 cup Maida/All purpose flour
1 ripe Banana, medium sized
3 tbsp Sugar(u can increase the qtty if u want sweet)
1/4 - 1/2 tsp Baking soda
1.
Mash the banana completely with your hands, add ghee in it; Add the rest of the ingredients, except oil, and make a dough; The dough should be of the chapati dough consistency.(Be very careful while adding yogurt; Yogurt gives out some water and tends to make the dough watery. So make sure u add spoon by spoon becoz it has mashed bananas too).
2.
Cover and set aside for 4-5 hours.
3.
Heat oil in a frying pan on low-medium heat; A tiny ball of dough dropped into the oil should rise immediately - That's when the oil is ready.
4.
Pull out ping pong sized balls of dough and pat them in between your palms to make pooris out of the dough; You could also use rolling pin to make the pooris.
5.
Drop the pooris in oil and deep fry on both sides until they turn brown; Note: While deep frying, press and keep them inside the oil at the start, just like you would do for pooris
6.
Remove from oil and drain on paper towels.
7.
Now dunk in coffee nd enjoy vch is the best thing to do or enjoy with daalitoy, sambar, or chutney!!!!!
Soft Fluffy nd Sweet
Tastes Yum Yum
when u add lozza love
in it.
Time To Say Bubye,
Take Care,