Guest Blogging - Recipe # 3
Hey Folks!! Did all of u enjoy the Sea food recipe in my last post? I am sure U did!
Wow I am feeling so happy that I have already finished 2 posts on Guest Blogging,and this is my 3rd one
J

Today I introduce U to my name hmm Yes Aparna Bhat. Yes My maiden name was the same now just the surname has changed But the name remains the same.
Aparna is a Excellent cook, especially a excellent food designer I must say, she designs yummy food to such a extent that people can just fall over for it
J
.
She has made a Angry Bird Idly – Can u Imagine of one? Atleast I couldn't until I saw hers. I wonder how she manages all this. Hat off Aparna!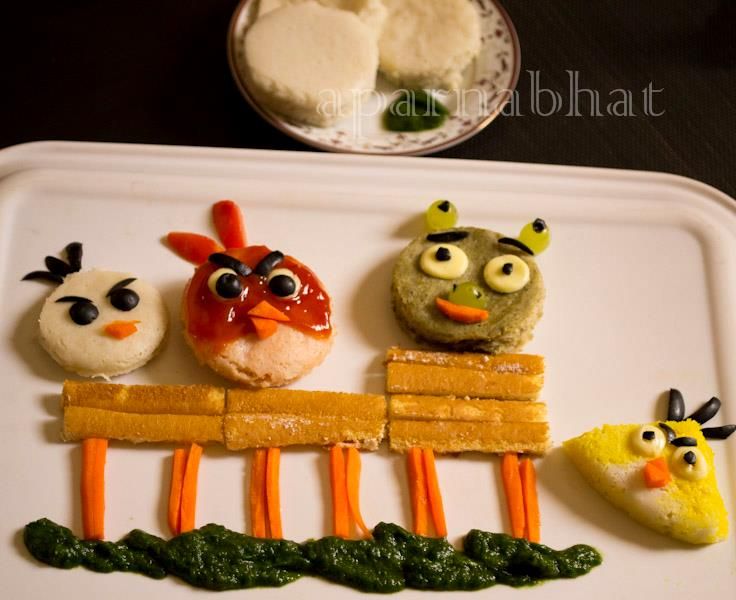 I came to know Aparna through a food group a month back and to m surprise I even came to know that we are related
J
isn't that a double dhamaka
J
.
Ok after s o much of intro lets see what Aparna has to say!
Yippee…. me guest on Aps Kitchen, that's a wonderful exciting feeling for me.
When I was asked by Aps, I accepted it with some extra time to do so.
I regularly follow her Kitchen and peep in, now and then to check the recipes especially with traditional AMCHI foods [that's how I landed on her blog via Google aunty]
I came to know her personally just a month back through a food group on Facebook where she is also a member. I love her blog because of the simplicity, lovely clicks, well written recipes and most important the homely feel I get every time I read about any traditional amchi dish.
About myself, am born in Karnataka brought up in Mumbai [that's how I have influence of Maharashtrian cuisine on my cooking] and presently in Kuwait. Used to hate cooking till one day I was left with no maid and had to dive into cooking …Being a creative person , I started taking interest in presenting the food in different ways…this not only fascinated the kids to eat without any fuss but helped me to develop my culinary skills.
Thanks Aparna [feels as if I m talking to myself: P] for inviting me here! Secondly, I hope this post will open doors to blogging by myself soon!
So here I post a savory treat for your viewers
Cauliflower Batata Vatanyacha Rassa
[Maharashtrian cuisine]
This Presentation ought to catch your eyes…. Classy one Aparna
Ingredients
·
2 cups Cauliflower florets washed under running water and then kept in warm water [ I add a tsp of vinegar to warm water that helps to remove the worms if any]
·
2 medium sized potato peeled and cut them into 1
"
cubes
·
1 large onion finely chopped
·
1 medium sized tomato chopped
·
1 cup green peas [I used frozen]
·
1 ½ tsp ginger-garlic paste
·
Dalchini/Cinnamon - 1 inch long
·
Lavang/Cloves -3
·
Rai/Mustard seeds – ½ tsp
·
Jeera/Cumin seeds – ¾ tsp
·
Hing/Asafoetida - pinch
·
Red chili powder – ½ tsp
·
Coriander powder – ¼ tsp
·
Haldi – ½ tsp
·
Goda Masala [ I bought this readymade masala from Mumbai , u can substitute with garam masala or try any homemade recipe from the net] – 1 tsp
·
Jaggery -1 tsp
·
Curry leaves – 1 sprig /8-10
·
1 ½ tsp Lemon juice.
·
Coriander leaves – 2 tbsp chopped for garnishing.
Boil frozen peas, potato cubes separately till they are partially cooked. Keep them aside.

Heat oil in a pan. Add cinnamon and cloves as it heats add mustard seeds, cumin seeds. When the seeds splutter add asafoetida and curry leaves. Next add ginger garlic paste, and onions. Sauté them till they turn light brown.

Add chopped tomatoes and sauté until they soften, add red chili powder, coriander powder, Haldi, Goda masala/garam masala. Stir it nicely till the oil separates from the mixture.

Next add cauliflower florets and sauté for 2-3 mins. The florets should get well coated with spices. Add peas, potatoes and ¾ cup of water and salt [adjust according to the taste].

Mix well and cook on a medium heat for 5 minutes with covered lid. Add more water as per your desired rassa/gravy consistency. Take care not to overcook the florets and also be gentle when you stir this curry. Finally add jaggery, lemon juice and garnish with fresh coriander leaves.
Serve this dish with hot rice/bread/phulkas or puri.
Note:
If you feel the gravy has turned too watery try adding roasted peanut powder
You can also add fresh grated coconut in the gravy along with coriander leaves
Thank U so much Aparna for squeezing out time from your busy schedule and writing such a lovely Post
J