Badam Rolls
Shubh Navaratri To all My friends here!
We Indians have Festivals every month, A occasion to celebrate. Navratri is one of the festivals which we celebrate

J

. About Navratri I have written a lot in My post HERE.
Today is the first day of the celebration So let us start with A Sweet.
Badam Rolls, this was not in mind when I was making it. I actually was on the making of badam burfi as my little darling loves it. I was almost in the end of the procedure my little one interrupted for the natures call and I had to end up with the rolls because I could not spread it on the plate. I even rolled few into Pedas.
It was tasty Indeed! And my daughter enjoyed every bite of it Saying Badam Burfi Yummy!!!!
I got this recipe from one of my FB friend Chandrika Kini
I have followed the same procedure(apart from the spreading and cutting).
1 cup Badam Paste ( See Notes )
1 cup sugar (adjust accordingly if u want a bit more sweet )
Take A Non stick pan and add Badam paste and sugar simultaneously and mix it well.
Keep stirring it until the paste gets thick. Add few saffron strands and mix again.
The colour of the paste slightly changes & small pores appear on the paste the approximate time for you to take it out of the flame (This is a tricky procedure to know if the mixture is done. Make sure u keep stirring until u remove from plate )& pour on to the greased plate.
Now take small portions of it and roll it long (as long as a pencil) and cut pieces of it (it depends on how long u want them to be), make the same with rest of the portion.
Allow it to cool in room temperature.
Now badam rolls are ready to eat!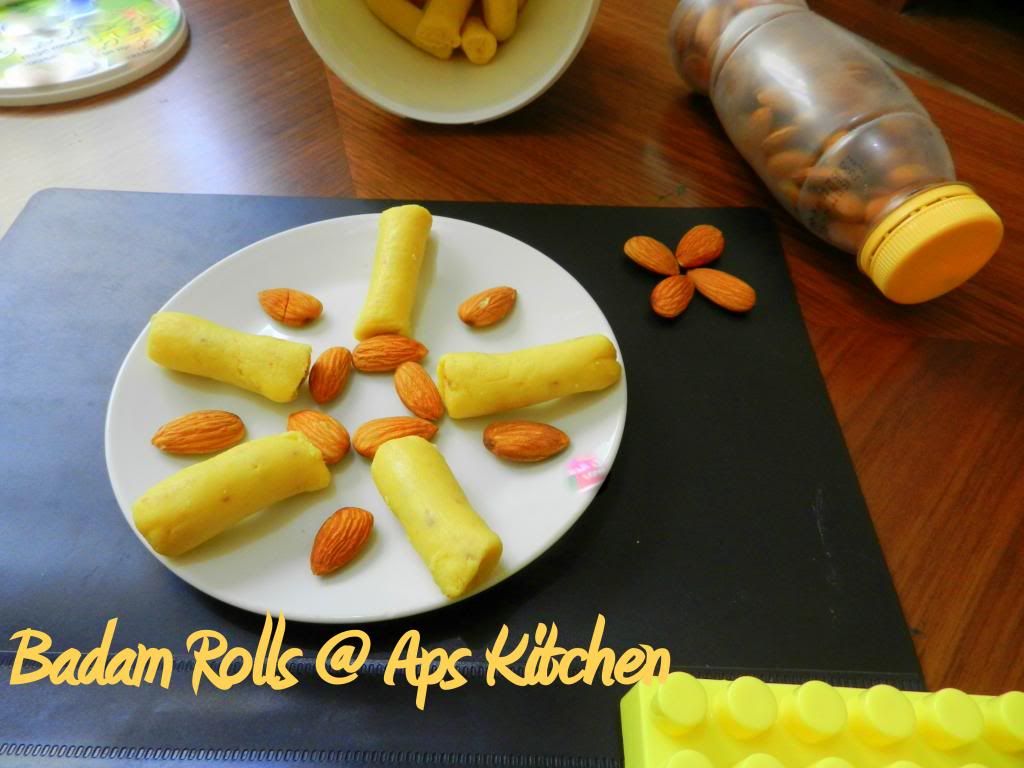 Notes: To Make Badam Paste Soak Badam/Almonds (around 35) in mild hot water for around 1 hour. Peel the Skin and grind it with little milk(just to grind the Badam/almonds not more) and few saffron strands.
U can use as many almonds u wish to. Its just that if the almond paste and the sugar(1:1) weighs equally the sweetness will be perfect!
Tastes Yummy When U add lotzza Love In It
With Sweet Note Wishing U all Again A Happy Navratri May God Bless U all
Signing of for now,