Crunchy Munchy #4 - Corn Chuda/Cornflakes Chivda
I am sure all of u are enjoying the Crunchy Munchy posts going on here… Its been 3 posts till now, here I come with the 4th one
J
Crunchy Munchy#4 –Corn Chivda
2 cups Corn Poha/Pressed Maize

½ cup Peanuts/ Groundnuts

Cashews/raisins (optional)

Fresh Curry leaves

Oil for Deep frying
1 tsp Red Chili Powder

1/4 tsp Turmeric Powder

4 tsp Sugar powder

Salt to taste
In a small bowl mix together the ingredients for the Masala Powder and keep aside

Deep fry the corn poha part by part.. drain and remove on a paper towel.

Once the corns r deep fried fry peanuts until crisp, then fry raisins,curry leaves and drain on a paper towel.

Now mix the fried items all together.

Take masala powder and sprinkle over the fried corn poha and mix well. The masala should be added to poha when it is hot as it mixes well.

Add more masala if needed.
Let this cool and then store in dry airtight containers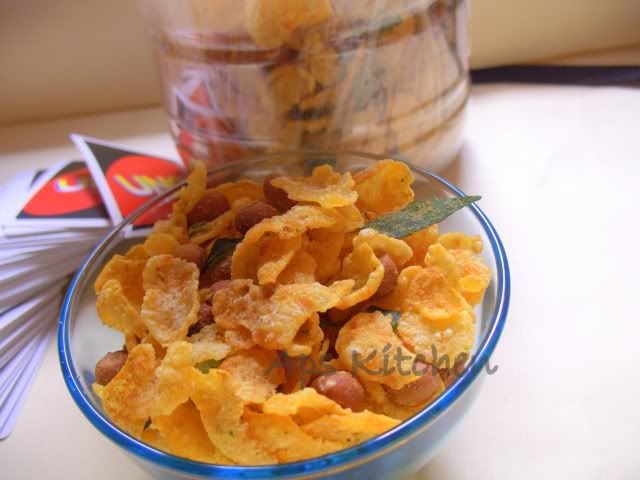 Tastes Yum Yum when u add lozza love in it.
With the last post of CRUNCHY MUNCHY series Its time to say bye!!!!
Promise to come with more recipes
J