Crunchy Munchy # 3 Charmuri Chuda/Charmuri Chivda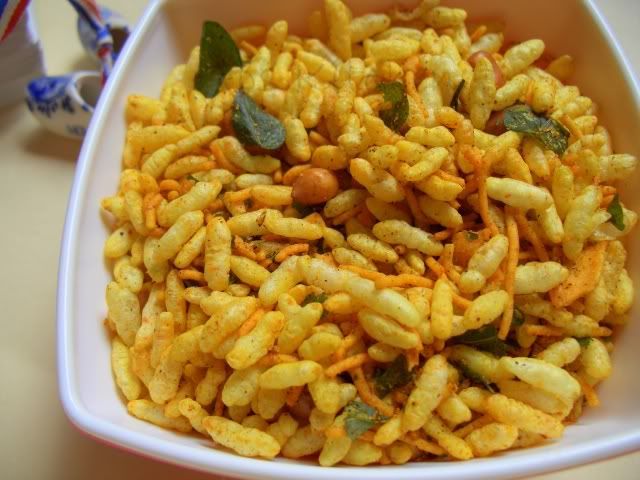 When u feel like munching something without oil yet something crispy and yumm here is Charmuri Chivda/Chuda for u…
Charmuri is a Konkani word for puffed rice.
Puffed Rice/Murmura/Kurmura - 7 cups
Peanuts/Groundnuts - 1 cup
Curry Leaves - a sprig (optional)
Red Chilli Powder - 2 tsp
Turmeric/Haldi - 1/4 tsp
Thick sev – 1 cup
Powdered Sugar - 1/2 tsp
Oil - 3 tbsp


Method:
1. Wash curry leaves and pat them dry.
2. Heat oil in a kadai. Fry the peanuts till colour changes or roast the peanuts in MW oven.
3. Now, in the same kadai add curry leaves. Saute till crisp now add puffed rice and sauté for a minute. Then add fried peanuts.
Allow to cool for a while then add thick sev, red chilli powder, turmeric, salt and sugar.
5. Mix well and chivda is ready. After it cools completely, store it in air tight container.