Carrot Milk
I can keep On Complaining about summer always....... I got stories to narrate what happened to me this summer.....
Any kind of juices makes me fell cozy not to forget I ask for more!!!! more is a small word here ;)
One such day when all of us were deciding on the juice menu we found lots of carrots lying in the fridge...
Soon the carrots were grated for carrot halwa..... now dont ask me we ver speaking about the drink ;).
Yeh this is a drink which doesn't need any effort.
All at home enjoyed the chilled milk and was worth praising my efforts :)
Here is how we made it....
On the making of carrot halwa..... Here goes the recipe of carrot halwa....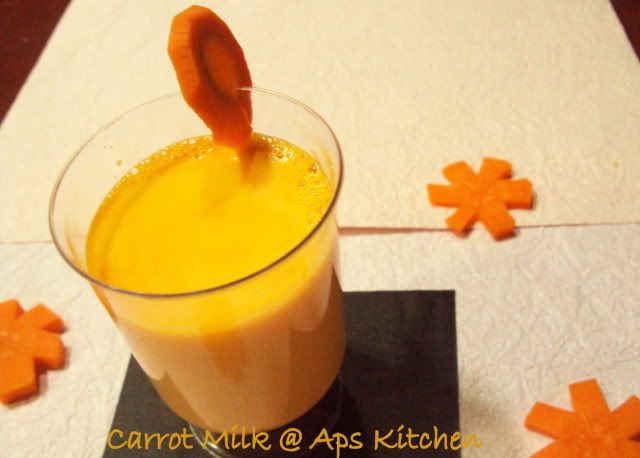 For the carrot Halwa I used 1 ltr milk.. I added half liter more and allowed the milk to absorb carrot flavor... Once the carrots got cooked I started rremoving the excess milk and Added sugar as required and Chilled the Carrot Milk....
This is the way to of 2 in one cooking A Dessert n A cool Drink ;)
last but not the least Tastes Yum Yum
when u add lozza love
in it.
With a lovely post its time to say bubye!!!!