Beetroot Kosambari
For me or say us eating A big bowl of Salad is equal to a full meal :P
But these days I have my lunch as well as a Big Bowl of Salad….
This is a Simple salad which can be made easily and is just Superb.
Beetroots are rich in iron & other minerals. Beetroots are very good to relieve constipation & are very good for obesity. Its fibre contents promotes healthy cholesterol levels, helps to build red blood cells.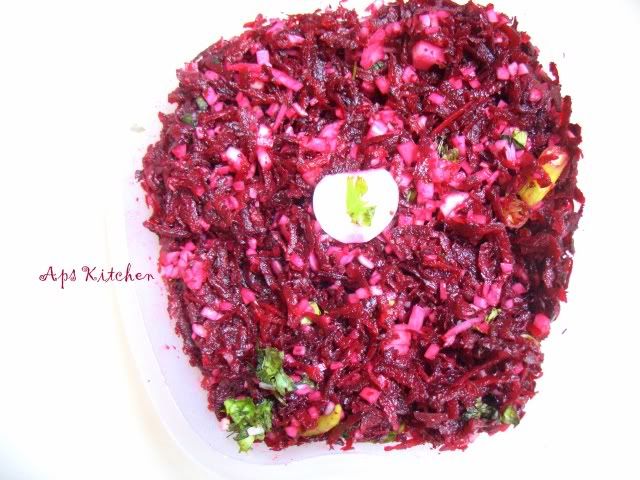 1 large Beetroot

1 Medium sized onion

1 Green chilly

1/4 Cup of coconut

Small piece of lemon

Coriander leaves for garnishing

Salt as per taste
Peel and Grate the beetroot and keep aside.

Then add coconut, green chilly(chopped) to the beetroot with little salt & mix well.

Chop the onions finely & add to the beetroot mixture.

Squeeze the lemon & add salt as per taste.

Finally garnish the salad with coriander leaves.
It has been long time i participated in any event... So here is my turn to participate.
This is going to Pari's Event Only Salads hosted by our dear blogger Prathy Of The Chef and Her Kitchen.
Last but not the least I wud love to say that Aps met Apy of ApyCooking.... I had a really good time meeting her :) . I wanted to meet her lil chubby kid, but couldnt make it... But there is always A Next time :).
Hope to meet many more Bloggers soon....
Tastes Yum Yum
when u add lozza love
in it.
With A healthy Post Its Time to say bubye,