Creamy Avocado Whip
The First taste of Avocado was when I was 13….. We never knew what was it until my Pacchi (mom's younger sis) got it for us from Coorg…. And that is when I fell in love with this fruit…..
From then we started getting it every year when she came to Mangalore… And the session of getting it continues till date….
We either make Avocado Whip or Avocado Milk Shake that is what all prefer at home.
When my hubby first came home(my place) my mom just asked him if he wud have the dessert he had a reaction yuck… I don't like avocado.. … But mom told leave all the fuss just taste it n then he replies…. Mayi Is this really Avocado???? And tells I ate something else I guess this is so yummy from then He too fell in love with this fruit…… So how about sharing the simple recipe with all ya…. I am sure all who do not like avocado also will fall in Love with it
J
J
J
So here is a simple dessert made with Avocado Loved by all….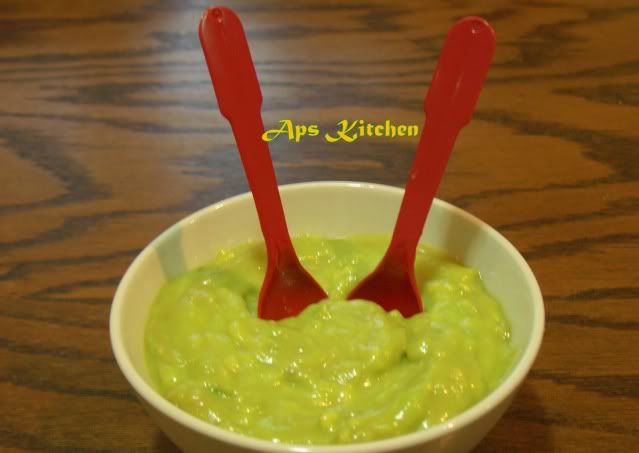 1 avocado, peeled and pitted

1/2 cup milk(with ceam)

1/4 cup white sugar
1.
Mash avocado with an electric mixer , or use a food processor. Blend in the milk, sugar until smooth. Chill for about 20 minutes before serving.
Isn't it Simple and Yummy!!!!!!!!!!
With a Super dessert saying