Methi Thepla
Whenever I think of Cooking especially some simple dishes I don't have any kind of fuss… and may be the reason is it takes only few minutes to get into it….
Whenever I get mails or requests from either anonymous people or even friends or may be FB friends telling me that they tried my dishes and it came out really yum…. I feel so fascinated…. And I keep repeating the same to Guru. And the talk starts like this..
A: U know I got a mail from so n so that she tried my dish and it came out super..
G: yeh those r fool proof dishes na dear.
A: But still trying is gr8 nave and over that telling me is so sweet…
I end the talk and go back to my work after 10 minutes…
A: I m really fascinated U kno…
A: I told u I got a mail…
G: oh tht one u told me once…. Y r u repeating
A: but still it feels gr8 nd I feel like telling it over and over..
And so goes my fascinating talks….
Sometimes when I get mails or my friends tell me about it I feel y not u guys comment in my blog instead of pinging me…. It would not take xtra time of urs….;). I kno this is kinda being selfish for comments…. ;).
I too peep out into blogs and comment heartily if I really liked the dish…
I have even told if I have tried them out…..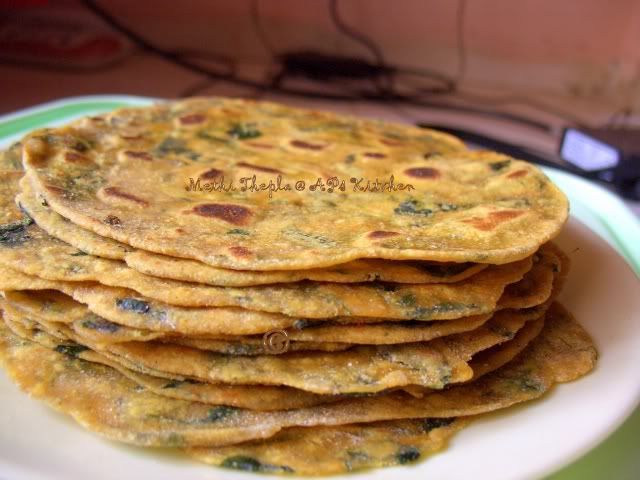 Ok now to today's hot topic….
Rotis or Chapathis really don't electrify me as the rice items do…. There r selected varities which is almost done now and then in my house…. Now Methi thepla is added to the menu….
The first time I ate this was when my SIL made it.... and soon When I had seen it in Parita's world I was wanting to try it…. And I did it the next week itself… But I cud get the clicks now….. I never made any changes in the ingredients but have tried a different method.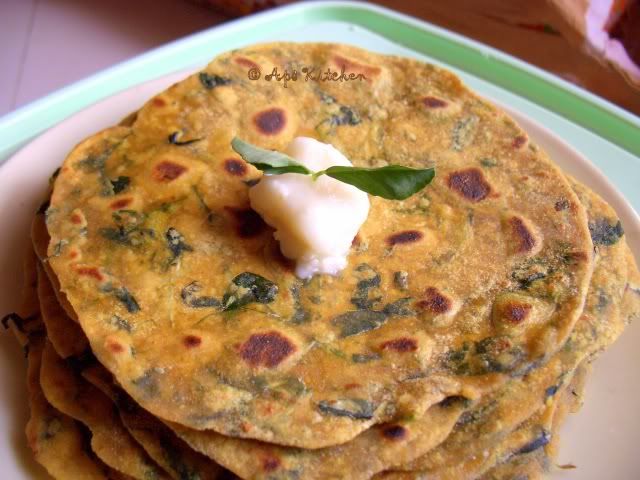 So here is the Recipe for Methi Thepla:
1 cup fresh fenugreek/Methi leaves finely chopped
1 1/2 cups of whole wheat flour (Atta)
1 tbsp oil
1 tsp red chili powder
1 tsp turmeric powder
1 tsp coriander seeds powder
1 tsp cumin seeds powder
lemon sized ball of jaggery
Salt to taste
Water as required

Procedure:-
Heat a pan add oil, coriander powder, red chili powder, cumin powder and turmeric powder, fenugreek leaves, salt, jaggery, mix well for 5 to 8 mins until jaggery has dissolved.(I did this to remove the bitterness of methi). Allow it to cool.

After 15 mins, add the whole wheat flour in this mixture and knead into a soft dough using water as required. The dough should have consistency similar to roti dough.

Make lemon sized balls and using a rolling pin roll them into circles.( I know mine haven't come in perfect circles I m still in learning process in tht matter).

Fry theplas until done on both sides(I did not add oil to it while frying).

Serve them With curd, pickle Or even Shrikand As I ate it with this and it tasted Super.
Till I come back Again with something New,