Sheera
Its a deleted Post so i have posted the oic as it is
J
Its SHEERA…
Sheera is one of our family favorite, but to add to it… my
Dad like the sheera made by Thick sooji/Rawa and the rest of us love it with the fine semolina/rawa…. So here is the difference among us :D
Fine Semolina/ Rawa/Sooji- 1 cup
Sugar – 1 cup
Water -2 cups
Ghee – 3-4 tbsp (be generous in adding it as it will taste super especially if it's the homemade ghee)
Elaichi/Cardamom powder – 1tsp
Cashew nuts broken few
Hot Milk - 1tbsp
Method:
Soak saffron strands in hot milk.
Heat ghee in a deep bottom pan and fry broken cashews…. When done fry the rawa until golden brown (by frying it the rawa doesn't form lumps).
Now add water and boil until the rawa is cooked and water almost evaporated.
Now add sugar,soaked kesar and mix vigorously so that no lumps are formed.
Cook for 5 more minutes, add cardamom powder and remove from flame.
Garnish with roasted Almonds.
Eat it just like that or with Hot Puris or with any thing of your choice.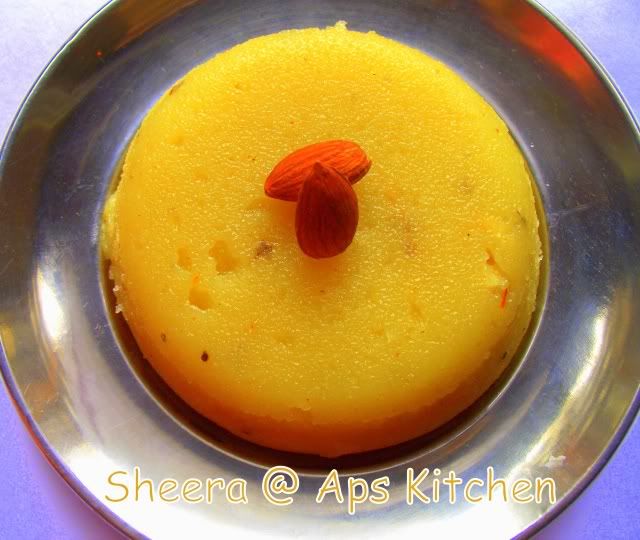 Till my next post,
Be sweet to All,
Saying bubye,