Bitter gourd Masala/Karela Masala
Heya !!!! Hope all r in Pink Of Health!!!!! Its Fun time for me now….. I m off to vacation
to mangalore………. SO m gona enjoy there to the core!!!!
Before going I thought I must post something interesting and then leave ….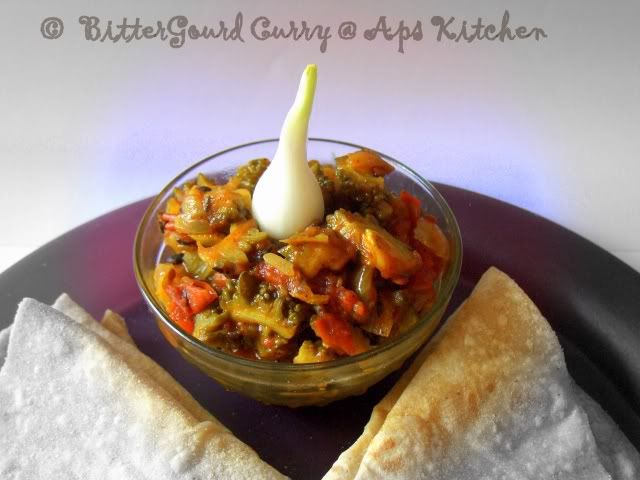 My hubby never liked bitter gourd at all…. But now he loves this dish only this dish lemme tell ya he had so much of fuss when I used to do kosambari nd all… I used to relish it all alone
J
J
J
I loved doing tht sometimes and made him feel he is missing something :P.
One fine day when I made this dish he loved it… he never got the bitter taste…. Neither did he complain about the dish he just called me nd told It was Yumm!! Nd his colleagues seconded tht !!!!
I make it atleast once in 2 weeks or so… And all at his office relish it
So here Goes the recipe:
·
Cut 3 Karelas into small pcs.... and deseed them.
·
Now apply salt and amchur powder to tht...... and leave for 3 hrs and then squeeze and drainthe water that removes the bitter taste.
·
In a pan heat oil add 1 tsp urad dal, 2 tsp jeera, let it splatter
·
Ones done add 2 diced onions, 2 diced tomato and fry until raw smell of onion is off.
·
Now add turmeric

,
red chilly powder 1 tsp, dhania jeera powder 1 tsp,
add 1 tsp amchur powder, sqeezed karela,salt if required and cook until karela/bitter gourd is done.
I found tht this is the most simplest dish to prepare…..
Sorry Guys I may not be able to visit ur space nd relish the food… I will catch all ya when I m back…
Will be back with some more Yumm recipes,