Simply Veggie Pizza
There are some people who don't like to talk, It's not that they don't like to listen either. Some neither listen nor talk…and make as if the conversation going on is very boring even a painful waste of time…:D Some talk and don't listen and the Last category who talk as well as listen…. In which I get included…. It's a different thing that I can keep talking non stop….. :P. I know all of ya r thinking y all this??? Last nyt we ver just speaking of someone who belonged to the group neither talk nor listen category…. And enjoying our Pizza…. :D I kno that's not a topic to enjoy with a pizza but we had lots of funny stuff in between those talks…..
M

y mom always told me U will win someone by ur words…. Not only she even my besto best fren tells me the same….
J
Ok now from one talk I may move to another so letz come down to today's topic … Pizza
I always wanted to make a pizza dough myself at home…. One of my fren passed me the recipe and I tried it… And I always feel 'A great pizza starts with a great dough' I don't bet this ones the best dough but it always works for me..
The click is the old one(not yest…) as it was lying down inmy draft I picked it up….
We enjoyed the pizza to the core…. It had a homemade dough and sauce and lozzzzzzza veggies…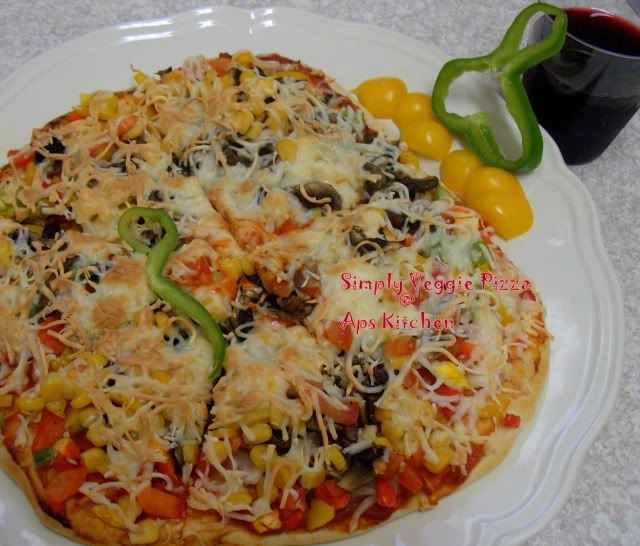 Here is the pizza recipe:
• 3/4 Cup warm water
• 1 Packet active dry yeast
• 2 Cups all purpose flour
• 1 tsp Sugar
• 3/4 tsp Salt
• 3 tbsp Olive oil
Pour 3/4 cup warm water into small bowl and stir in yeast.

Let it stand until yeast dissolves, about 5 minutes.

Mix flour, sugar and salt in processor.

Add yeast mixture and oil. Process until dough forms a sticky ball.

Transfer to lightly floured surface.

Knead dough until smooth. Add more flour if dough is very sticky.

Lightly brush a large bowl with olive oil.

Transfer the dough to prepared bowl and turn it, to coat with oil.

Cover the bowl with plastic wrap and let the dough rise in warm draft-free area, until doubled in volume (about 1 hour).

Store in an airtight container and refrigerate.

1 clove garlic, mashed and minced

1 teaspoon salt

6 ounces tomato paste

8 ounces tomato sauce

1/2 teaspoon sugar

1/8 teaspoon pepper

1/2 teaspoon oregano

1 tablespoon olive oil

dash red pepper, optional

Combine all ingredients. Makes about 1 1/2 cups, enough for 2 pizzas.
Now take
50 gm mozzarella cheese
Veggies (mushrooms, capsicums, onions cut into small dices, fresh corn kernels)
Italian Herbs (oregano, thyme, basil)
Place the Pizza dough on a baking pan (or on pizza stone if u have one).
Spoon on the pizza sauce, and place the topping on the base, sprinkle with cheese.
Bake pizza until the crust is browned and the cheese is golden, about 10-15 minutes. If you want, toward the end of the cooking time you can sprinkle on a little more cheese.
Enjoy Ur Homemade Pizza
J
J
J
J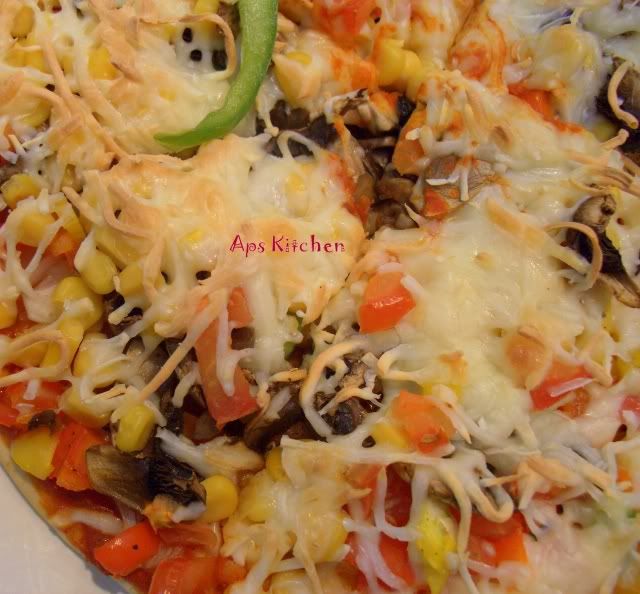 Tastes Yum Yum
Face Eating Yellow Smiley Decoration Images
when u add lozza love
Yellow Smiley Face In Love Decoration Images
in it.
Its time to say bye,