These days m on a baking spree.. and some trials r going on… this time it was time for a cake… Its been long time since I baked a cake… and it was always with eggs… so I decided to do some eggless cake…. But with wheat flour… as this wud not only give a different flavor but wud be healthy too…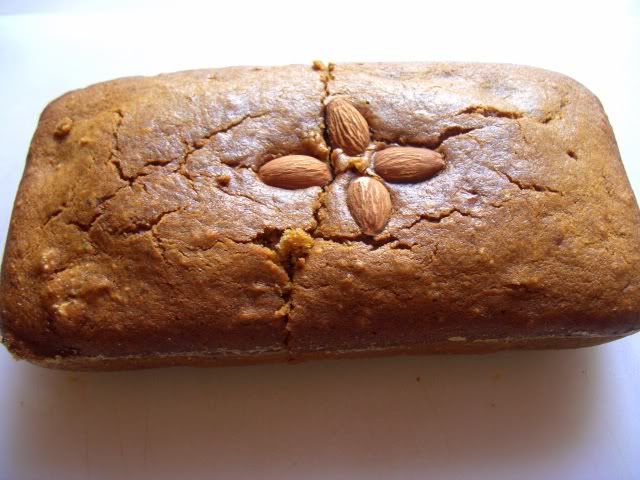 As I dint want to eat plain cake I was planning for some nice flavor… but what???? As soon as I entered my kitchen I saw a bunch of bananas lying in the fruit basket I just took one and decided to make a eggless banana cake… when I was googling I found many cake varities but the one which attracted me was This One… even here there is a problem I did not have Walnuts But lotza almond were In my box so I used them.
This was not only fluffy but super tasty.
Now I have the confidence to bake. Yayyyyyyyyyy
1 Cup wheat flour

1 banana pureed

Butter 1/2 cup

1/4th cup Roasted and chopped Almonds

Sugar 3/4th cup (I used 1/2 cup but it was a bit less sweet)

Baking soda - 1/4th tsp

Baking Powder - 1/2 tsp

Milk 1/4th cup
Method:
Preheat the Oven.

Mix wheat flour, baking pd, soda and sieve them together.

In a bowl mix sugar and butter and fold them until creamy.

Add flour mixture slowly with milk. Also add mashed bananas and chopped almonds in this mixture.

Just fold all ingredients in one direction.

Now put the batter in greased and dusted baking tin.

Bake it for 25 to 30 min at 180 °C.

Check with a tooth pick by from centre ,if it comes out clean then cake is baked, if not then give it some more time.

When baked, let it cool and then remove from tin, if you remove it hot then it will not come out whole.

Place It on wire rack and once cooled cut into slices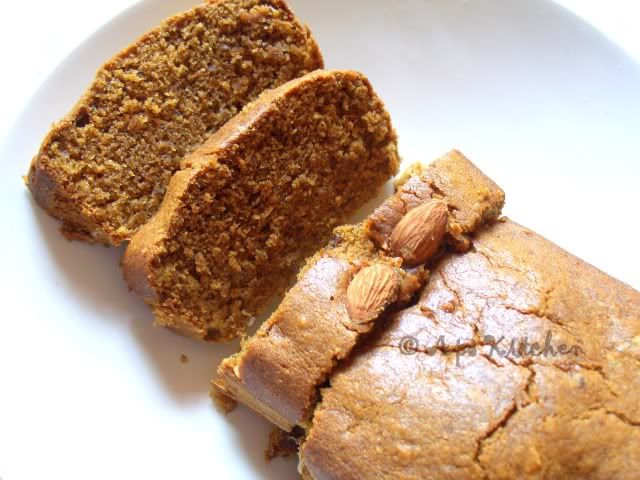 Tastes Yum Yum
when u add lozza love
in it