Limbiya Saaru & Phanna Taak / Lime rasam & Spiced Butter milk
Hey guys hope u r in pink of health. I'd decided that 2010 I must regular in blogging….if not once in 2 days atleast once in a week or so…. I hope I can keep up to it…. Here is our Favorite Rasam and Butter Milk….. It may be my Amma, my bro or my hubby we just love it ….. I dint add my dad bcoz he doesn eat onion and garlic….
Any ways keeping all the talks aside I quickly give u the recipe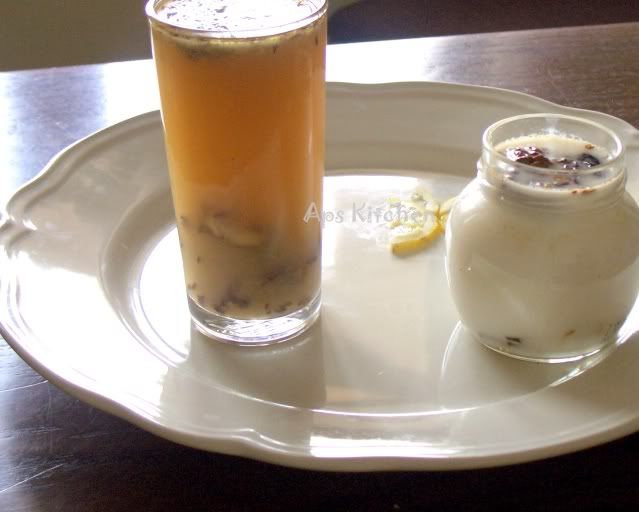 For Limbiya Saaru / Lemon Rasam
Take a big lime and squeeze out its juice…..And keep aside… remove all the seed from the juice because seeds make them bitter.

For 2 cups of Nisshe/ Starch water ( Starch water extracted after boiling rice will be the best…. I use that)if u don't have that u can do that with normal water too Add a lemon sized jaggery, 2 slit green chillies,Salt mix well and bring it to boil… Get a proper bubble boil for 10-12 minutes, now add the extracted lime juice and boil for 5 more minutes….
In a small frying pan heat 1 tbsp ghee , add 15-16 crushed Garlic(do not mash it just beat it with any hard thing so that it gets a slit , we normally do it with small stone….) and fry them till Golden brown…. Add only the Garlic to the Rasam retain ghee in the pan…
Now use that ghee for seasoning… Add 1tsp of jeera(cumin seeds) to the ghee whe splatters 1 red chilly(broken ) and remove from flame and add it to the Rasam….
Make sure the Rasam is on flame….. Once the seasoning is added remove from flame and serve hot with Steamed White Rice…. U can even drink it like a soup if u love to…..
The process is very easy just luks lengthy….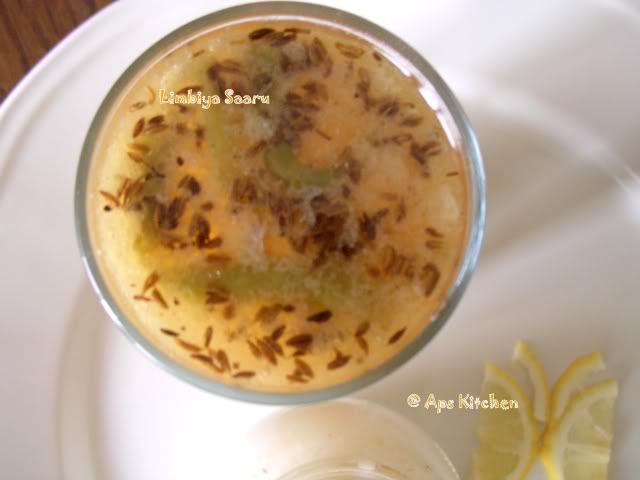 When I meet my frenz they tell me Hey Lime saaru is like a life saver…. Can me made ne time of the day….
Especially when u finish preparing ur rice do not throw the drained water instead collect it for the Rasam.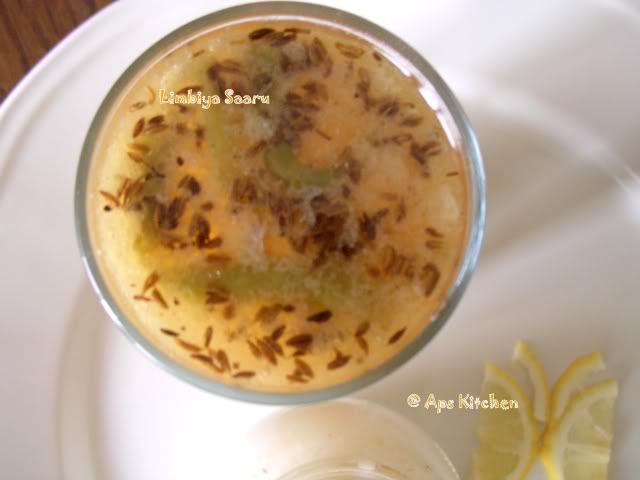 Now for the Phanna Taak
We need
2 full glasses of thin butter milk (I love it to be sour)
I m a Garlic fan So I added 15 crushed Garlic ( u can add acc to ur choice)
Red Chillies -2 broken into small pieces
Salt to taste
Hing a pinch
Oil – 1tsp
Method: Heat a tsp of oil, add crushed Garlic and fry til golden brown, then add red chillies and add this to the Buttermilk… Now add hing and salt to taste. Mix well.
Here is Phanna Taak to relish…..
Note:
For the rasam adjust the spice and sweetness according to your taste.
Tastes Yum
when u add lozza love
in it.
Note: I may not be able to reply back to u for a few days because we r in process of shifting….. So please do not mind if I don't get back to u soon….. I may even get a bit less time to browse… but once I m back I will surely come back to norm…..
Cya Soon,