Veg Frankie
Hey All !!!! b Hope U all enjoyed ur New year.. got bac to norm….. Our new yr was superb.. we had been to Jet ski, Sand dune…. Beach…nd the whole day was simply superb…. (day bcoz 31st nyt all my plans went super flop…) Ne ways leave tht aside and lemme think of wht good had happened…. M sure this yr is gonna give me new surprises nd will be a fun filled year…. Wishing the same to all….



I had always heard about Veg Frankie ….but never tasted it neither had tried it out..Its famous in Mumbai…. This is one among my Hubby's fav's So on spl request I googled aroung here nd there nd clubbed many posts nd got into one….. : ) ….. It was tasty nd yummy… The only thing wht happened was my roti's very small :P……



Here is wht we need
For the Tikki –
Potatoes boied nd mashed -2
Frozen green peas boiled nd mashed – 1/4th cup
Carrot grated – 1
1 teaspoon ginger garlic paste
1 teaspoon chilli powder( add according to spice reqd)
Fresh coriander leaves finely chopped
salt to taste
2 tablespoons oil to fry
1 teaspoon cumin powder
1/2 teaspoon chat masala
1 tsp Kitchen King Masala
Mix all the Ingredients well and make small balls… flatten the tikkis, heat a griddle and Shallow Fry each tikki until crisp. And keep aside.
Other Ingredients req…
Tomatoes thinly sliced – 1
Onions Thinly sliced – 1 or 2
French Fries – I used – but optional
Tomato Ketchup
Chaat masala to sprinkle on each roti
4-5 rotis or flatbreads ( I used Phulkas), If U have Left over Chapathis or phulkas u can use them too....
Method to make Rolls/Frankie's
Place A phulka…. Spread Tomato ketchup sprinkle a pinch of Chat Masala, Break the tikkis into 2 and place it on the roti, keep 3-4 French fries, onion slices and tomato slice on them, roll and close both ends forming a neat wrap.(My phulkas were not pretty big so I cud not roll it completely)
Some make it like a mixture and also add instead of tikkis, U can try both the ways :)

Note: Apply a toothpick in the center to hold the roll if the rolls are not completely closed (or ur rotis or phulkas r small) this helps the mixture not to fall out.
This is a veg recipe, but you can also add eggs to make it A Egg Frankie.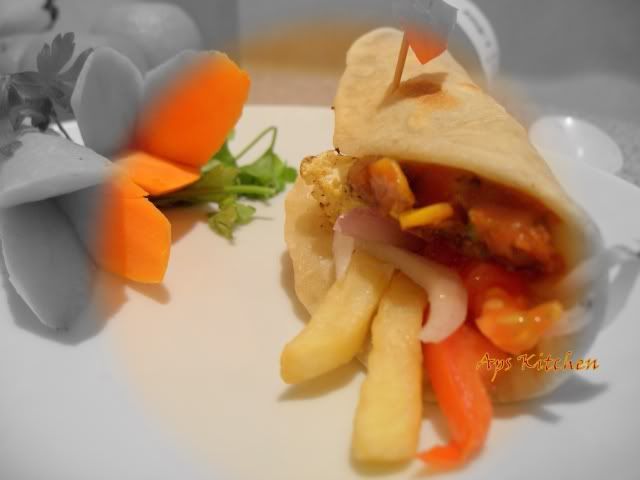 Verdict- Fantastic dish that is very filling!
Serves -2
Yields 4 Frankie's
Tastes Yum Yum
when u add lozza love
in it.
Till I write Again,
BuBye