Follow my Thumbprint..............
After so many months I m posting this recipe….
Sushma
of Authentic food delights was asking me this recipe ….some of my other frenz did too… M really sorry girls it went of my mind ….. today after so many days I remembered about this so thought of posting it…..
My first cookies wasn a big hit….but I never lost hope :P I folowed the spider rule….try n try til u succeed.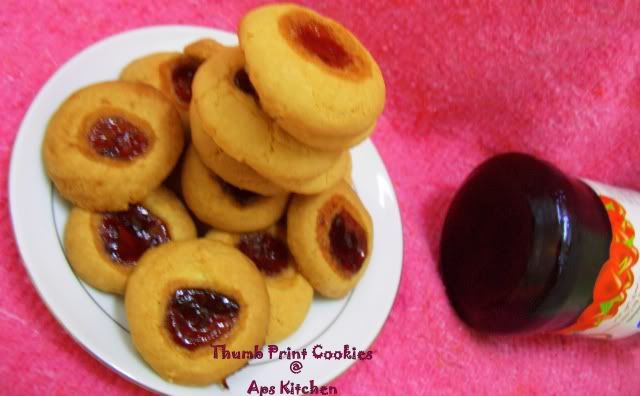 Alas I have…. :)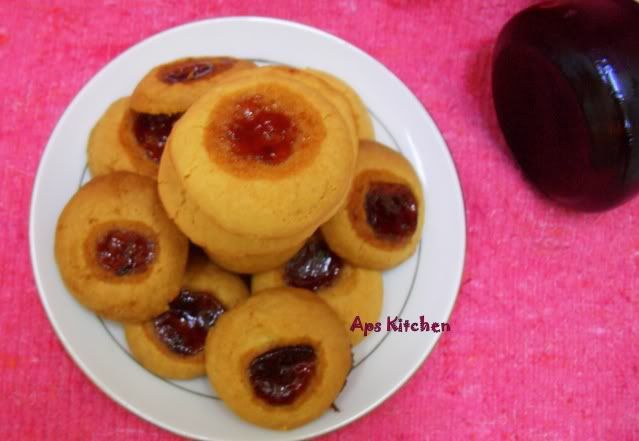 Here is the recipe for The Cookies
Ingredients
1/2 cup butter, softened
1/4 cup sugar
1 egg
1/2 teaspoon vanilla extract
1 cup all-purpose flour
2/3 cup any flavor fruit jam or any preserve ( I used Cherry preserve)
1/4 teaspoon salt
Directions
Preheat oven to 300 degrees F. Grease cookie sheets.
Separate egg, reserving egg white. Cream butter or margarine, sugar, and egg yolk.
Add vanilla, flour and salt, mixing well.
Shape dough into balls. Roll in egg white. Place on cookie sheets about 2 inches apart.
With thumb, dent each cookie. Put jelly or preserves in each thumbprint. Bake for another 12-13 minutes
Tastes Yum Yum
when u add lozza love
in it.
Signing of for now....
Take Care