Asparagus Duo Soup with Veggies nd Mushrooms.......Slurp
A months time off from blog…nd now m bac… I Hope U guys haven't forgotten me…If ya have then I u guys better refresh ur memories….. M bac with a hot soup….
I guess all in mangalore have forgotten tht there is a season called winter……Winter starts from oct nd is on till Feb…… But these days its just 2 seasons there Summer nd Rainy season….nd winter season has also changed into summer nd rainy season….Its burning hot during the day nd heavy rains pouring after 7……Thunder Lightning Ahhhh M afraid……..But apart from all this what I loved in mangalore was the Love I got from all….. My Family and my frenz….I enjoyed Amma's food…….Mayi's Sambar….Nd I too cooked sometimes :P…..
When it comes to frens the first one who met me when I came was V, he made me laugh to the core….. Then a bunch of frenz…in blore Sandy,Durga,Madhu,Niru…Miss ya all.
I enjoyed Rasamalai….. made by
Uj
, Aamras made by
Suma
.
I met Suma my Blogger fren…..nd had a Gala time. Suma was a sweetheart she treated me with my fav's Aamras, Kaaju Katli(double dessert I can Say ) and Vada. I enjoyd tht day. Her daughter Smera was such a darling I just loved speaking to her. Suma's in laws nd her Parents too everybody treated me one among them.
I hope to meet ya soon…. Nd wish to meet many more blogger frenz.
Its been 2 days in the New place...The weather is really pleasant. I m trying to get along with things…
Ok now after all the story il come bac to the recipe
Is the weather cold???? Then y not try a hot soup…..A readymade soup with a twist will do??? Yeh y not…if u feel lazy to cook then this will obviously do…..
We need:
A pack of soup powder- I used Maggi Asparagus Duo… U can use ne one of ur choice..but if u find this one then do try it once.
Vegetables thinly sliced ( carrot, beans, onions, mushrooms, and sweet corns) – 1 cup for 1 packet
Italian seasoning
Salt If required
Butter 1 tbsp
Method:
Mix the soup powder according to instructions.
Now In a bottom pan add butter when melts add all the veggies nd sauté it.
Do not over cook the veggies, keep them crisp.
Now add the soup mixtue and stir well.
Add more water if required.
At last add Italian seasoning ½ tsp.
Add salt if required and Serve hot.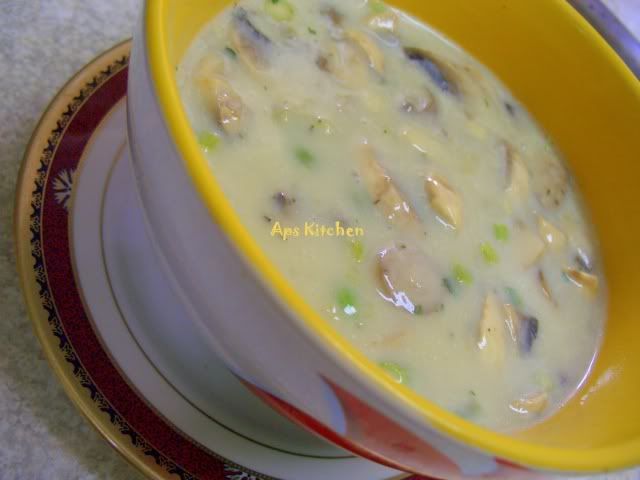 I was showered with Awards from Tulip From
Amader Rasona
Tastes Yum Yum
when u add lozza love
in it.
Ciao,