Tawa Pulav
I have always loved rice dishes…. Tawa pulav is the one I always ate nd loved but never knew how to prepare it…. Thanks to Master Chef Sanjeev Kapoor for showing this recipe in his wonderful show Khana Khazana……U can watch the vedio
here
One fine day when we were so bz playing Carom it just struck my mind that Ah….Khana khazana myt be going on on TV….I just changed the channel nd what do I see….One of our Fav dish Tawa Pulav… I left my game aside nd saw the whole episode… I tried it the next day itself so tht I can pack it for lunch.
Ingredients:
1/2 Cup Basmati rice
1/2 Cups chopped mixed vegetables(Carrot diced,Beans cut in lengthise,Capsicum cut in small dices,Gobi florets)
1/4 cup Fresh/Frozen Green peas boiled nd mashed
1/4 Cup chopped Tomato
1 medium onions chopped
1/2 tsp ginger garlic paste
2 tbsp pav bhaji masala(the key ingredient in this pulav)
1/2 tsp red chilli paste(add if you want extra spicy stuff)
2 tbsp coriander leaves
Juice of 1 lemon
Salt to taste
2 tbsp Oil
Method:
Soak Basmati rice in water for 15-30 mins and cook the rice.
Heat Oil in a thick bottomed Tawa or Pan,fry the Onions until translucent,then add ginger-garlic paste and then add the Veggies,peas and fry them for approx 6-7 mins until they are crisp.
Add pav bhaji masala,red chilli paste,salt and the rice to the vegetables and mix gently on high flame.
Sprinkle lemon juice and finely chopped coriander.
Serve it piping hot with some cucumber onion raitha.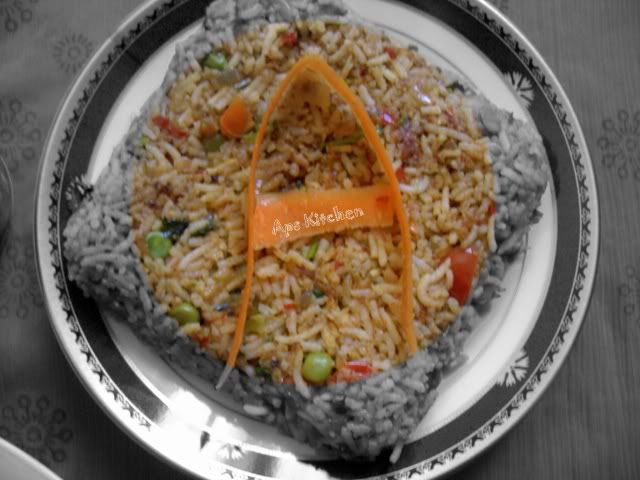 A stomach filling Tawa Pulav is ready to serve.
A hot tawaa Pulav, Raitha n a Cool Berry Juice completes the lunch.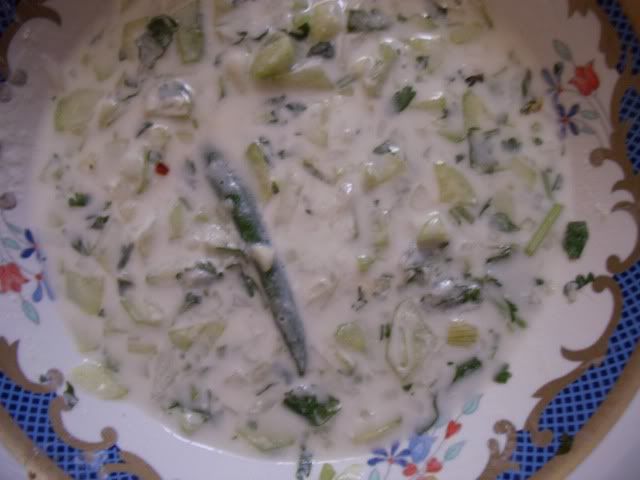 For Raitha
Cucumber peeled nd chopped - 2
Onion peeled nd chopped - 1
Yogurt - 1 cup
Green chillies finely chopped - 1
Corriander leaves finely chopped - few strands
Salt to taste
Juice of half Lemon
Method:
Mix all the ingredients well add little water if required.
Serve with ne Pulav of ur choice.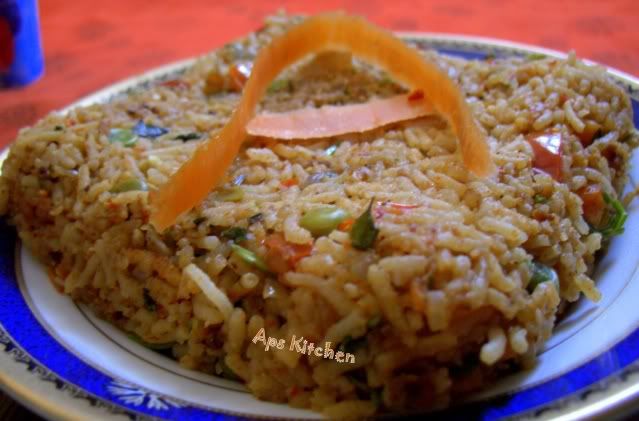 Serves - 2
Verdict - It tasted awesome and u cant be without trying it again nd again..
Try this pals nd do lemme kno how did it turn out :)
Tastes Yum Yum
when u add lozza love
in it.
Ciao,
♥**********************♥