Pickle Mania#2 Kotla Nonche/Mixed Vegetable pickle
This Post was Deleted so i am posting it back as many could not view it.
Thanks for letting me know guys
This Is One more variety of Pickle using Mixed Vegetable.... Its called Kotla Nonche In Konkani now I don't know what the word kotla means.... but nonche means pickle.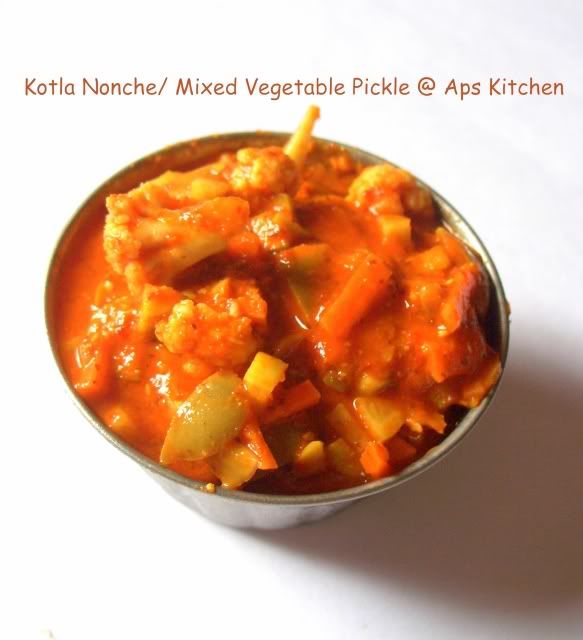 So here is the recipe for the delicious pickle:
Raw mango – 2,big-chopped
Cauliflower – 1,small-cut into small florets(if it's a big one use half of it)
Tindora/Tendli/Ivy Gourd – 10-15chopped
Carrots – 1,chopped
Lime – 5-6

For the masala

Red chilly – 200 gms
(Mamama used both Kashmiri chillies and the round red chillies)
Mustard seeds – 1 tbsp
Hing/Asafoetida – 2 tbsp
Salt to taste (use crystal salt) we almost used 1/2 cup.
Boil 2cups of water and add salt in it. Give 2-3 bubble boils. And allow it to cool down.
And
Wash the vegetables and wipe them with a kitchen towel and chop them into small pieces and add these vegetables to the cooled salt water. (allow to rest for almost 2 hrs).
Later In a mixer, add the red chillies and grind till they become powdery.
Add the mustard, salt and hing and add enough water to grind(Use the salt water which is in the vegetables).
Pulse till it becomes a very smooth paste.
In a big mixing bowl, add the chopped vegetables. Add the ground paste to the vegetables and mix well.
Mix in the lime juice and water if required.
Keep it covered overnight or at least for 5-6 hours for the flavors to get in. (check the taste if reqd add salt and lime juice to adjust spice)
Pour into sterilized jars and keep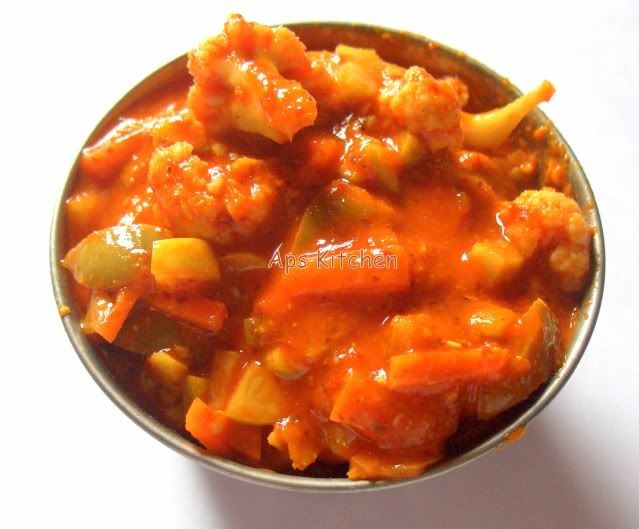 Tastes Yumm Yumm when u add lotzza love in it.