Pickle Mania# 5 Adgai
Hey All!!!!! Hope all of ya enjoyed ur weekend …….. I did too… We had fun this weekend…..
I loved any kind of Pickle that Amma made…. I cud never eat spicy food…. But when it comes to pickle I cud enjoy tht ne time…. Nd dad wud always tell "Tukka he teek jaina ve??? Varlele kaucha natak" i.e. U can eat so much of this nd u have fuss towards other things :D…. But now I miss all those things… Now I got to do it all myself nd enjoy Amma's food when m on vacations…. This time when amma had come I told her to adgai so tht I cud enjoy it till months…. (I knew to make it though). I wanted Amma to make it for me
In Saudi Canada nd many other places apart from India Kadgi is available through out the year but in cans, imported. Now it being Jackfruit season and When I saw fresh one here couldn't resist.
Here is the way we make pickle or Adgai...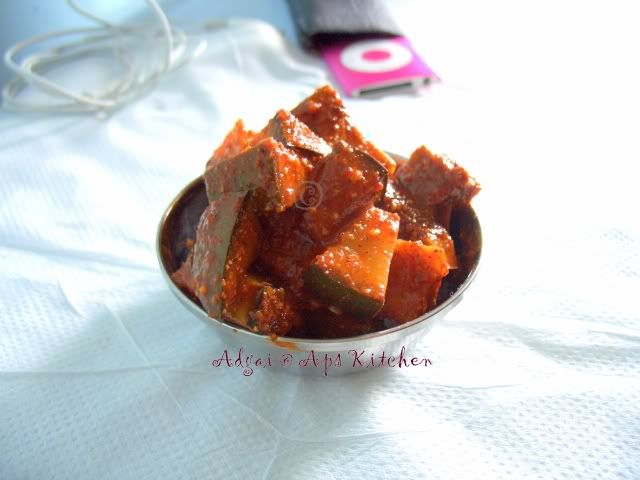 We need:

500 gms Kadgi/Raw Jackfruit

3 Raw Mangoes cut into small cubes

Crystal salt – ½ cup

Water – 1 cup
To dry roast nd grind:
4 tbsp Mustard seeds

2 tbsp Coriander seeds

1 tsp Fenugreek Seeds (Methi)

1 tsp Asafetida powder (Hing)

½" turmeric piece or ½ tsp turmeric powder

20-25 Kashmiri Red Chillies
Remove outer rind of the Kadgi, discard and cut into small pieces.

Wash and place them in a bowl(do not add water in the bowl because we have to just steam them) and then place it in a a pressure cooker with sufficient water and cook for 10 minutes.

Add salt to a clean dry steel vessel, add enough water and bring it to a rolling boil. Turn the heat off and let it cool.

Now add the cut raw mangoes in the salt water(it shud atleast soak for a hrs timeto absorb salt).

Dry roast individually all the spices and transfer to a blender.

After 10 minutes turn the cooker off and let it cool. Take Kadgi out.

Grind all the roasted spices in just enough salt water (the salt water which we made)to make a paste.

Transfer the kadgi pieces and raw mango pcs into a clean dry vessel and add the masala. Add left over little salt water to the blender and pulse it couple of times to get the remaining masala adhering to the blender. Add that to the vessel as well.

Transfer the pickle into a clean and dry bottle.

A days' time is enuf to absorb salt nd spice.
Tastes Yum Yum
when u add lozza love
in it.
P.S- some ppl even steam mango so tht they absorb the spices soon… but this makes the pickle mashy… so I add them just like tht they will remain crunchy for long time…
U can enjoy the pickle with Rice nd Daal, or even dosa's or ppl like me can enjoy a spoonful just like tht :D
Enjoy till I m back with something more,