Mango Murrabba
Long time I have posted something here So i thought i will post one of my favorite dish and Say a Big Hello to you all!!!!
Its Raining Mangoes everywhere!!!. I no we love the King of fruits!!! At home Mango(raw or ripe)s r never out of stock…. Say until the season ends….
And when it comes to raw mangoes I love them just vth salt n red chilli powder or murabba or daal or Pickles they r just yum…..
1 kg - raw mangoes, peeled
1&1/2 kg - sugar
1 tsp - green cardamom seeds, crushed
1 tsp - saffron (kesar), crushed
Halve the mangoes, remove seeds and grate them well.
Place the grated mango in a pan, add two cups of water and cover and cook on low heat for ten to fifteen minutes or till water has reduced to half the quantity. Set aside.
Heat sugar with six cups of water in a thick-bottomed pan (a non stick pan works good) and prepare sugar syrup( one string consistency).
Add the cooked mango along with the sugar syrup and stir.
Add crushed green cardamom seeds and saffron and continue to cook, uncovered, on low heat till the mixture is thick and translucent.
Now sugar syrup should turn around two-string consistency.
Cool and store in airtight container.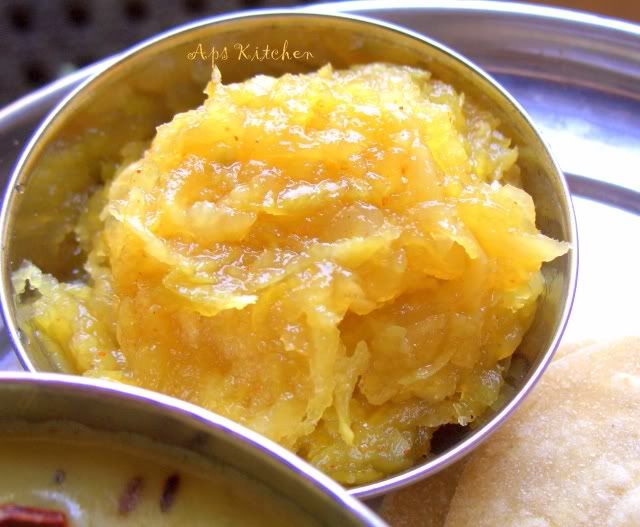 Tastes Yum Yum
when u add lozza love
in it.
Tastes yummy with Chapathi, roti or even bread!!