Crunchy Munchy #2- Masala Kadlo
Till date I never made masala kadle, or chips or even chivda's all myself instead I just sat besides helping amma with just getting things ready and the MAIN PART i.e EATING ;).
Now that I have got a good opportunity to learn from amma and make it all myself and Amma doing the helping part I feel so good
J
. Infact I feel great that Amma has learnt to rest
J
.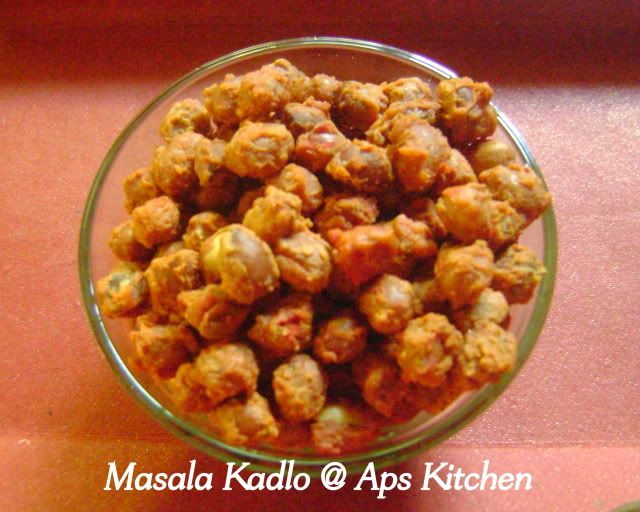 So here is the Crunchy Munchy#2- Masala Kadlo/Masala Kadle/Gram flour and spice coated peanuts.
Kadlo in Konkani means peanuts/groundnuts. And when u deep fry them coating with all the spices its Just Yummmm…
Rain is on the go and When it pours it feels great to munch on this snack with a hot Cuppa Coffee or Tea
J
.
This recipe is very simple to make.
Enjoy the deep fried crunchy peanuts.
So here is what to do for Masala Kadlo
250 g peanuts
125 g gram flour (besan)
2 tablespoon (25 to 30 ml) water
3/4 teaspoon salt
1teaspoon Kashmiri red chilli powder
1/4 teaspoon hing (asafoetida)
Coconut Oil for Deep frying

Method
1.
Mix peanuts with besan, salt, red chilli powder, and hing.
Sprinkle 2 tbsp water and mix well. Mixture should be thick and well coated on each peanut.
1.
Heat oil in a frying pan. Reduce heat to medium and fry gram flour coated peanuts in batches (depends on how big ur frying pan is I fried in 2 batches as my frying wok was big enough) until golden color and crisp (Do not fry on high heat. Peanuts will get the brown color immediately and it won't cook inside).
2.
Drain and place on paper towel so that it absorbs excess oil.

Serve with Tea or Coffee or just munch them without any thing
J
.
With a Crunchy post its time to say bubye!!!!