Kesar Badam Milk for Krishna Janmashtami
Krishna Janmashtami is a day on which Lord Krishna was born to Devki and Vasudev. Krishna Janmashtami is also known as Gokulashtami or Gopalkala. On the occasion of Janmashtami, Dahi-Handi is played by young boys and sweets prepared using milk and milk products are served. Read on to find more about significance of Janmashtami, traditions and ritual associated with Janmashtami and how Janmashtami is celebrated.
Krishna Janmashtami is celebrated as the birth anniversary of Lord Krishna, the eighth incarnation of Lord Vishnu. This religious festival is celebrated throughout India with devotion and enthusiasm on the eighth day of the Hindi calendar month, Bhadon. Janmashtami is also known as Krishnashtami, Gokulashtami and Srijayanti. Everywhere the celebration is colourful and extravagant.
The Next day is Mosaru Kudike(In Mangalore) or Dahi Handi(in Maharashtra nd northen pars of India)…… Dahi Handi is celebrated on the next day of Janmashtami, during Nanda Utsav. A pot with the mixture of curd, milk, ghee etc is hung by the means of a rope about 20-30 feet hih or sometimes even more
J
. Contestants form a human pyramid to get their hands on the desired pot. It is definitely a challenging game to get hold of it as eager contestants make their way up to it, water is sprayed on them continuously by the onlookers to distract them. The winner who gets hold of the pot gets the Prize as decided…
J
.
We performed pooja at home and it was totally divine
J
.
Now after all the significance and Story here is todays recipe:
I made this milk 2 days back on Krishna's Birthday
J
.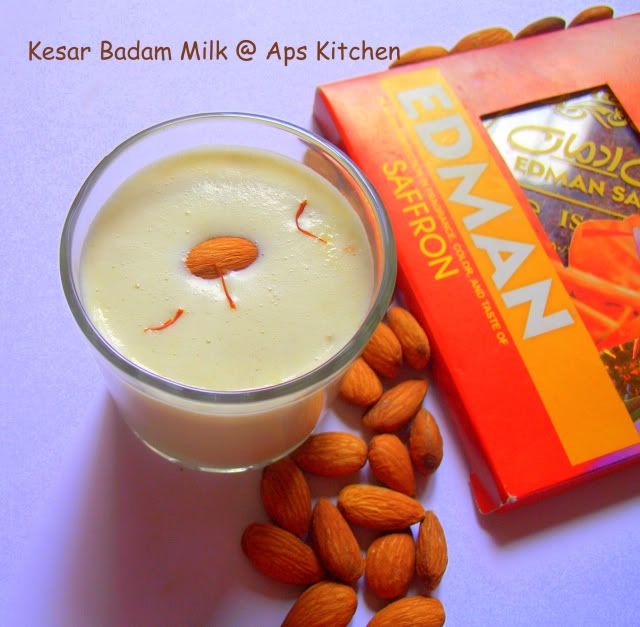 Sugar as per taste (I used 4 tbsp)
Cardamom – 4-5 pods peeled
Soak Badam/ Almond until the skin comes out neatly.
Now peel the skin of the almonds.
Take 2 Tbsp hot milk and soak Kesar/saffron in it.
In a mixer grind Peeled Almonds, saffron, cardamom and sugar into a fine paste.
Now remove it in a vessel and add rest of the milk and mix well until the almond paste gets equally incorporated.
Kesar Badam Milk is ready to serve.
Drink It Hot or cold as per your choice.
May Lord Krishna Bless all of you and your family with all the happiness and health.
With all this Signing Off,