Batate Butthi
Its been weeks since I m here….. I was a bit bz with some tit bit work….. nd yeh now m bac with a interesting Konkani Cuisine which has been our fav….when ever I think of potato nd onion I remember Mamama's Batate Butthi nd recently tasted Batate Song by my MIL…. Both r lip smacking good…. Nd mind me I can never even get tht taste….. I tried them a lot…. But tht taste naaaaaaaaa
I remember discussing with Divya Kudua about this dish nd she was so fast tht she even is done with th posting long time ago…..
My posting is too late I guess :P
Here's the recipe for batate butthi
Potatoes – 2 boiled and mashed coarsely
Onions – 2finely chopped
Grated coconut – ½ cup or half coconut
Red chillies – 4-5[roasted in a tsp oil]
Tamarind -1 small piece
Coriander seeds – 1 tsp
Salt to taste
Oil – 1 or 2 tbsp
Method :
Grind the coconut, red chillies, tamarind and coriander seeds to a slightly coarse paste.
In a kadai add oil and sauté the onions till golden brown.
Mix in the cooked potatoes-and sauté well.
Add the ground masala and salt to taste and just enough water to make it into a thick gravy consistency
Switch off the flame when the potatoes are covered with masala[about 10 minutes]
This curry tastes awesome if prepared 4 hours before serving….. (thts the secret of this curry)
It tastes awesome with Dosa, white rice and roti.
I served it with Idli batter Dosa.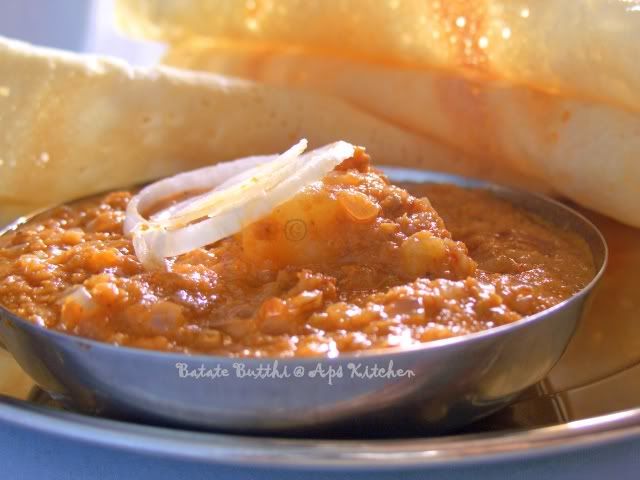 Replacement : you can add mushrooms instead of potato and this will turn into "alambe Butthi"
The alambe which we get in mangalore during this season is totally different compared to the regular ones…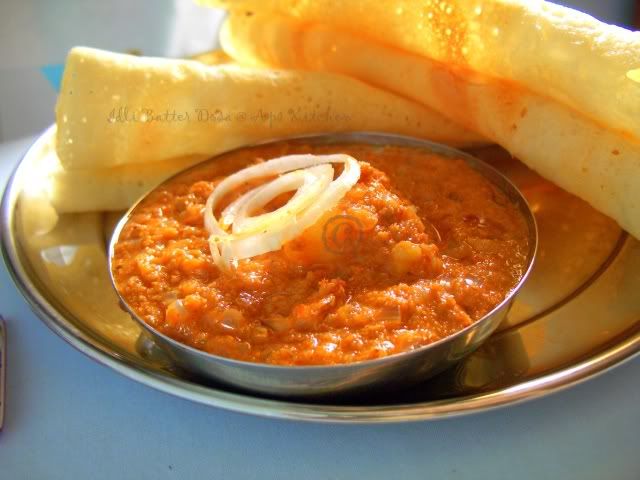 I hope U enjoyed reading this…