Veg Biryani- One Pot Meal
One Pot Meals have been our fav…. And that too when its burning hot this ios a comfort food.
The heat is unbearable these days… nd at tht time long time in kitchen is a fuss… the most ez thing to do is dump everything in cooker and wait for 15 min ur dish is ready…….
J
M sure there is no person who says no to Biryani's may be it veg for the vegetarians or non veg version for the non veggies…
Normally I do it in a very simple way vthout yogurt, saffron and layering process as its the most ez way for me... this one also was Yum J

But time consuming… lazy me :D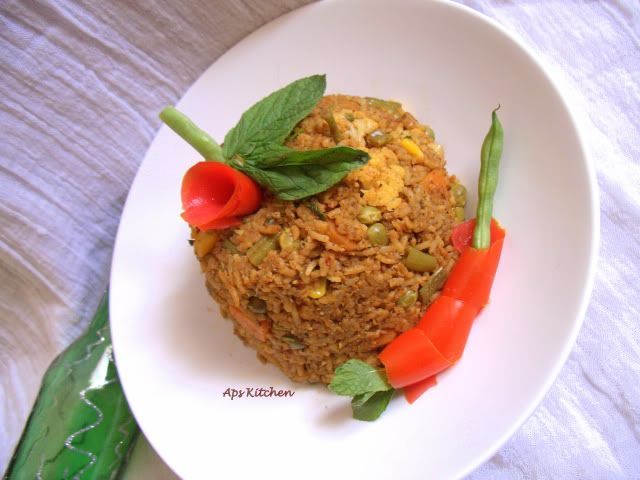 We Need: 1 1/2 c uncooked long grain rice
3 pinches of saffron
6 cashewnuts broken into halves
3 tomatoes finely chopped
1/4 c yoghurt
1 1/2 c mixed boiled vegetables (capsicum, cauliflower, carrots, potatoes, green peas,french beans)
1 tbsp chopped coriander
3 tbsp chopped mint leaves
a little milk
4 tbsp ghee
2 tbsp ghee (for adding on top of the rice)
salt to taste
To be ground in to a paste:
6 cashewnuts
6 cloves garlic
1 inch piece ginger
3 cardamoms
4 green chillies
3 cloves
1 tbsp poppy seeds
2 sticks cinnamon
1 tbsp coriander powder
1 tomato
1/2 tsp turmeric powder
1/2 tsp chilli powder
2 onions
·
Soak rice atleast for 20 minutes .
·
Boil the rice in salted water. Each grain of the cooked rice should be separate.
·
Drain and cool. Soak saffron in little hot milk and rub until it dissolves.
·
Heat the ghee and fry the onions until brown and crisp. Remove the onions and in the same ghee, add the cashewnuts and raisins and fry for a few seconds.
·
Remove and keep aside for garnish.
·
In the same ghee, add the ground paste and fry for 3 to 4 minutes.
·
Add the tomatoes and fry again for 2 to 3 minutes.
·
Add the yoghurt and fry till liquid evaporates a bit.
·
Add the boiled vegetables, mint, coriander and cook for a while.
·
In the pressure cooker, Spread half the vegetables. Layer half the rice on it.
·
Sprinkle, half the saffron liquid, half the onions, half the fried nuts.
·
Repeat with the remaining vegetables, rice, saffron and nuts. Add ghee( atleast 2 tbsp).
·
Cover and cook for 15 minutes without the weight.
·
Now Mix it well and serve…. (not a compulsion to mix everything together)( I mix it as DH loves it like tht)
I even have Suma's version of Pulav vch I will upload soon
J
J
J