Sabu Dana Kichdi
I always heard about sabudana khichdi but never made it back home… and thats bcoz dad did not like these pearls much :D . But I always loved them so mom used to make kheer and give… she never tried sabudana khichdi… :P. I ate khichdi after marriage when I was in Saudi but never tried this was the first time I gave a try to this recipe and mind me it came out perfect…. And thts bcoz my hubby knew how to make this :P.
1 cup sabudana(sagoo)
1/2 tsp Sugar
2 Green Chillies chopped finely
1/2 cup roated peeled and crushed groundnuts(coarse)
1 boiled & peeled potato
2 tsp Oil
1/2 tsp cumin Seeds (jeera)
1 Pinch Hing (asafoetida)
Salt to taste
Few Coriander leaves
Few Curry Leaves
How to make sabudana khichidi :
Wash and soak sabudana in water just enough to loosen and lightfor minimum 2 hrs. (or just soak in water and remove it out and allow it to soak just like tht overnight)
Chop the potatoes into small cubes. Mix crushed groundnuts sugar and salt and keep aside.
Heat the oil/ghee in a pan and add cumin seeds, green chillies and curry leaves.
Add potatoes and groundnut mixture and stir well. Mix sabudana mixture and mix gently.
Garnish with coriander leaves. Sprinkle some lemon juice over it and serve hot.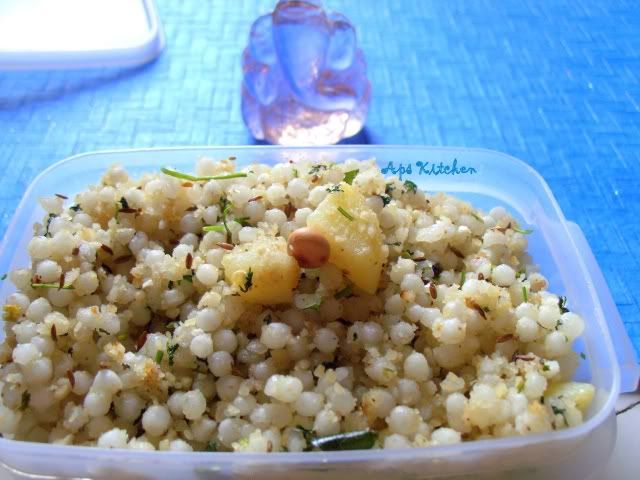 Tastes Yum Yum when u add lozza love in it.
Verdict: Though i made it first time it turned out awesome.... yum... and now on its going to be in my breakfast menu.