Kadle Manoli
This recipe is my Mamma's (mom's mom) signature dish at home…
I always loved her recipes… especially kadle manoli, gulla sagle, bhendaa sagle, gajbaje, nd so on goes the list.
I love mamama a lotsssssss. So I thought y not post something that she taught me….
This is basically a tulu dish which is from mangalore... hope all like it :)
Here is the recipe for Kadle Manoli :
150 gms brown channa soaked overnight
250 gms Manoli (tendli,tindora,Ivy Gourd) chopped lengthwise into thin strips
½ onion chopped fine
2 flakes garlic chopped fine
2-3 strings curry leaves
salt to taste
2 tsp oil

For Masala
1 cup grated coconut
5-6 red chillies
1 pinch methi seeds
2 tsp coriander seeds
½ tsp jeera
2 tsp oil
Boil the channa with water. When they are cooked halfway add the chopped manoli/tendli/ivy gourd.
Boil till the channa and manoli is completely cooked. Drain the water and keep aside
In a tawa add a little oil, then add red chillies and methi. When they turn red add coriander seeds and jeera. Then add coconut and mix well. Grind it in a grinder without
water. Keep this aside.
In a pan add oil and onions. When they turn golden brown add the curry leaves and the
garlic. When they turn a little brown, add the masala and salt and mix well. Cook for 3-4
mins then add the boiled channa and manoli. Mix well and let it cook for 4-5 mins.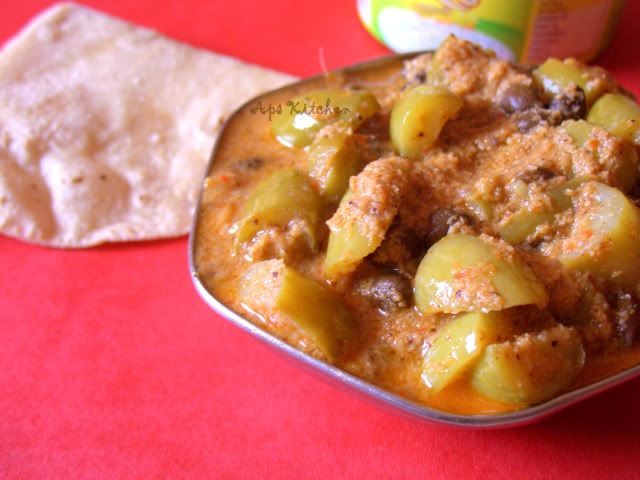 Tastes Yum Yum
when u add lozza love
in it.
Serve hot as a side dish with rice or Rotis....
Till later then
Bubye,