~Happy New Year 2010~
New year is everyone's Day…. Wishing U all A very Happy Nd A Prosperous New Year…..Let this coming year be better than all the others. Vow to do some of the things you've always wanted to do but couldn't find the time. Call up a forgotten friend. Walk tall, and smile more. You'll look ten years younger. Don't be afraid to say, 'I love you'. Say it again. They are the sweetest words in the world.
Do U Guys Make New Yr Resolutins…. I do-don't :D…. It all depends on my mood….. :D. I Trust in doing things as we like and about resolutions it need not be done on new yr it can be done ne day of ur life Unless nd Until Kept up….........

I do think New Year's resolutions can't technically be expected to begin on New Year's Day, don't you? Since, because it's an extension of New Year's Eve, smokers are already on a smoking roll and cannot be expected to stop abruptly on the stroke of midnight with so much nicotine in the system. Also dieting on New Year's Day isn't a good idea as you can't eat rationally but really need to be free to consume whatever is necessary, moment by moment, in order to ease your hangover :D. I think it would be much more sensible if resolutions began generally on January the second :P.


With New Ideas New Recipes Aps Kitchen gets U the New year Post…….
How about A dessert????/
I've always had Kulfi Ice Cream In Ice Cream Joints neva thought of making them at home…. Amma used to make ice creams at home but she never tried out kulfi's at home…nd I never tried Ice creams :P….. So with lozza discussion nd thoughts I decided to make them at home….. Nd its one of the fav in our family…..
I adopted the recipe from Sanjeev Kapoor's book…. I think I have told u tht he is my Fav Chef…..:)



Here Is the recipe:
MALAI KULFI
Am Indian dessert flavoured with saffron and almonds served ice chilled.
Ingredients

Milk-3 litres
Sugar-1/2 cup
Condensed Milk - 4-5 tbsp
Almonds, toasted 20 (U can use them without toasting but toasted almonds give a crunch)
Green cardamom powder a pinch

Method

Heat milk in a saucepan and bring it to boil. Simmer and reduce to one litre (five cups), stirring constantly. Add sugar and stir till it dissolves.Add Condensed Milk. Chop the toasted almonds and add it to the milk. Add the cardamom powder and mix. Pour in the prepared moulds, seal them airtight and freeze them in the refrigerator.

Recipe Tip :
To make the kulfi in the minimum time: take one and a half liters of milk and reduce it to one litre and add 400 grams of condensed milk and proceed in the same way.

Preparation Time :1-2 hours

Servings :6


P.S - If U dont have Kulfi moulds then dont worry Pour them into Glasses (I Poured them In Used Icream Container....If they r plastic then just tear out the cover nd cut :))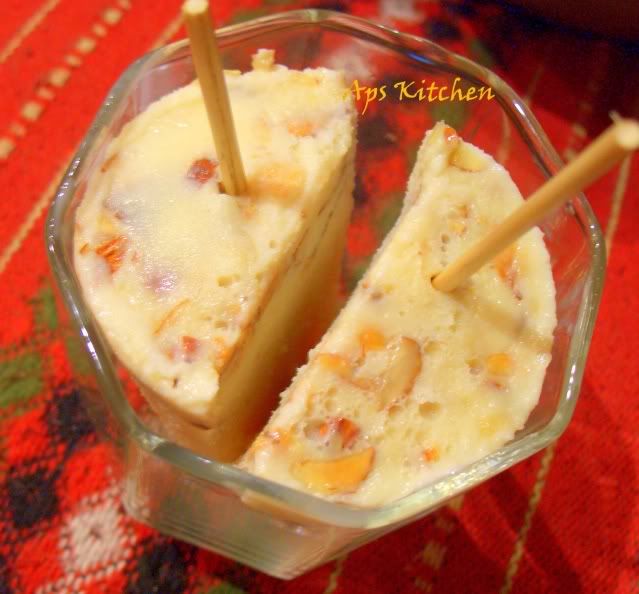 Tastes Yum Yum
when u add lozza love
in it.



Till I Come Back Again,
BuBye