Biscuit Ambado
Deleted Post
Each time amma or mayi prepares something the first thing wht comes to my mind is Wish Guru was here…. But no worries he will be here soon :)… after a week time I m freee today… so I thought i will get my draft updated…. I kno my drafts keep crying to remove them out there.
Hey all I m sorry if I neva visited ur site…. Sometimes I just went thru cudn drop a word… I guess u all understand…
I hope U all remember me…. Neva forgot me na???? I always think I shud have lozza followers I shud getta kno many ppl in blogging… nd all shud remember me… :P …. I kno all ya bloggers wish the same… I m sure it will be true :)….
Ok now to the recipe…
Biscuit Ambado is one of Amchis fav's ….
I really donno y its called biscuit ambado… if ne one yak no lemme kno ok…
Its one of our family fav's too.. I m not a big fan of it though… Ok I hurry up vth the recipe:
E need
Urad dal- 2 cups (soaked atleast for 5 hrs)
Green chillies – 3
Curry leaves – 10-12sprigs
Coconut thinly shredded or scraped – 4 tbsp
Salt to taste
Oil for deep frying
Method:
Grind Dal into a semi coarse paste …. Do not add water as iy will be flow…. We need the batter thick as it shud be dropd as balls.
For the batter add chopped green chillies,curry leaves, coriander leaves, and salt… and mix well…
Now drop in the batter(small tennis ball sized) into hot oil … Fry it on mediun flame until crisp…
This taste awesome with Coconut Chutney
For chutney we need
1 cup scraped coconut, green chillies 4 (cn more according to ur taste ) a slmall piece of tamarind(a peanut size), salt to taste
Grind all these items smoothly until fine…. Now serve this chutney with Hot Ambado….
We even Season the chuytney… but for Amados we prepare the chutney without tempering.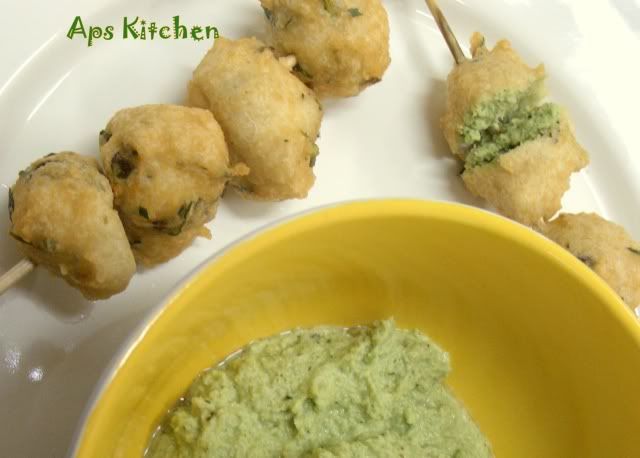 Tastes Yum Yum
when u add lozza love
in it.