Go Green- Palak Pan Polo
See I m here again within a week! This makes me feel happy too and I am sure it makes u feel good too!
Feel good?? U may ask me why? I have got u a innovative and a healthy recipe!
Last week I got a mail from a lady saying she wants Pan polo recipe and she even asked me if I could give her a healthy dosa version! So here is one for Her and U all!
Simple as ever!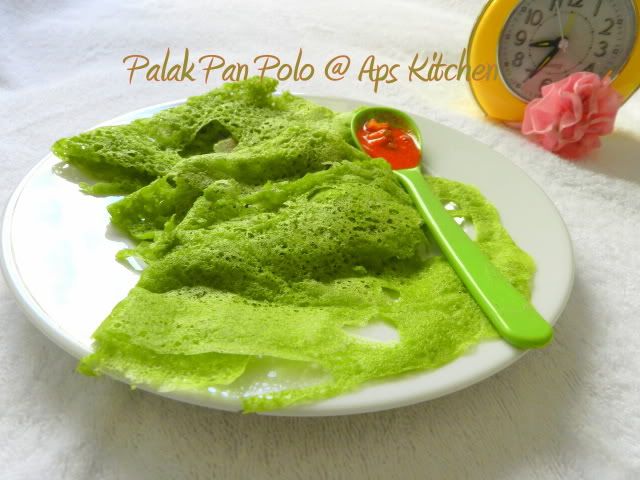 Palak Pan Polo
We Need:
1 cup white rice (preferably dosa rice)
2 tbsp scraped coconut
Salt to taste
Palak/Spinach puree 1 cup
oil
Blanch Palak and Grind it into fine puree without adding water.
Soak rice overnight.
Next day grind rice with 2 tbsp coconut and Palak Puree to very fine batter
Add water to the batter to make it into thick liquid batter.
Then add salt and mix well.
Heat dosa pan & spread the batter in such a way that u r spilling it all over the Pan. Just add little oil after spreading the dosa
Keep for just a minute, and then fold in a triangle shape & remove over a plate and Serve hot along With
Honey
or
Red Chutney
or
Kotla Nonche

or

starfruit pickle.
Note: I had a huge amount of palak so I had a Big vessel of puree from which I measured 1 small cup.
Adding extra coconut or palak puree may get you sticky dosas/polo.
I m sure S u are happy with this version of dosa.
This is useful for kids who do not eat greens, as they love dosa's and the color will surely attract them!
With a Healthy note its time to say Bu bye,