Quench Ur Thirst With Something Healthy and Nice........
I m always Game when it comes to Fresh fruit juices or even Milk Shakes… But when it comes to plain milk m not that fond of it…

I can have a cuppa milk at nyt that's the only time I can drink milk on its own: D
Yeh yeh m fussy I know I am sure many of u r there to accompany me :P.
It started getting back to the hot sweating days from the rains. Its getting me still crazy, thirsty nd thirsty…
Guru

always tells me drink atleast a glass of milk or eat curds but I used to avoid it… these days I started listening to him by Drinking Milk Shakes (after all there are fruits also in it apart from milk
J
) and he is totally happy… He too enjoys the drink on weekends…….
J
This was what I made today just to quench the Thirst……
Apple Banana Milk Shake
What I did was peeled 2 Apples and chopped them out….. In the same way peeled 2 bananas and chopped them too and Blended it till smooth.
Now I added 2 tbsp of honey and 2 cups of milk and again started blending it for some seconds.
I never added Ice Cubes as both of us just escaped from cough nd cold last week.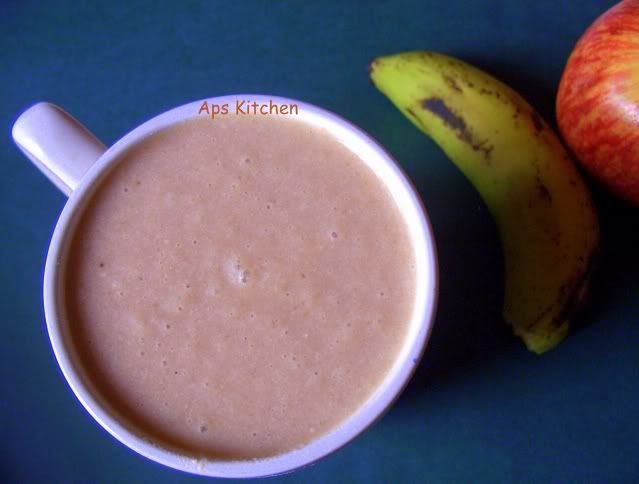 With a Sip Of sweetness Its Time to Say Bubye,