Paneer Butter masala to relish with hot Phulka's
Its been long time since both of these ver in my blog…. But I cudn post them with one or the other reason… I guess its ryt time now….
I m not a big fan of Paneer as of mushrooms but one fine day as I was curdling milk for rasmalai I realized there was some extra paneer and did not want to waste it so I made paneer butter masala.
And when matter comes to phulkas I m very bad at rolling them round and if tht happens they wont fluff like a bubbly…. And when I was in doha I had electric coils but not gas stove…. And there I saw this way of making phulkas and tried it… and it turned to be a supe success… I continued this method until I was there…. And now I can proudly say m good at making phulkas…. Nd now I roll them far better than before
J
1 cup Wheat Flour
Salt to taste
sugar ½ tsp
water to mix
Flour for dusting
Method:
Mix well the flour, sugar and salt.
Start adding water till you get soft pliable dough.
Knead well for 5 minutes. It will become smooth.
Rest the dough for 30 minutes. Again knead well and divide this into 4 equal sized balls.

Use all the flour for dusting. Roll it into medium sized rotis. No folding or hole inside. It will not fluff orelse.
Keep the skillet on the stove on medium heat.
Put the roti in the center. Let it cook for few seconds. Small bubbles will appear on top.
Once it is half done, turn it to other side. Let it cook for 1-2 minutes.
Then remove the skillet and show the ½ cooked portion directly on the flame. It will rise like Poori. The heat must be even and medium through out the process. Remove it from the fire.
Special Tip: which i used from Here
For those who don't have gas stoves like I did, this can be done with bread toaster. Make small rounds and cook till 50% on skillet. Then slide them in the bread toaster at medium heat. They will puff and remove them. But you can't make big sized pulkas by this method.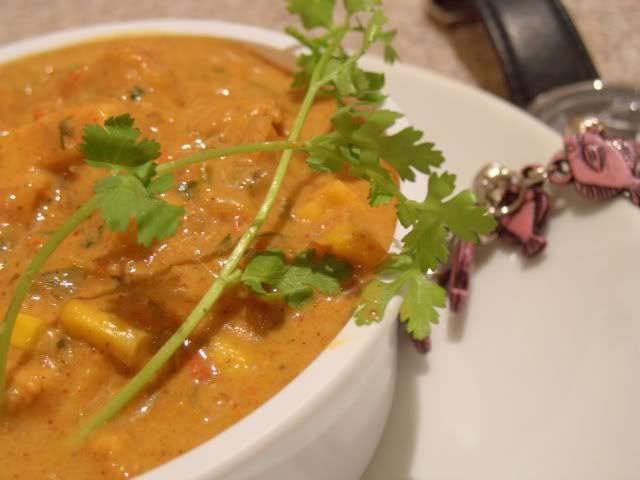 Here is the recipefor paneer butter masala… it's the same as Her's I never made ne changes apart from adding cream instead of curd
J
J
J
Paneer - 200g(i have used homemade Paneer)
Onion -2(grind to fine paste)
Tomato puree of 2 tomatoes
Ginger Garlic paste - 1tbsp
Kashmiri Chilli powder - 1tbsp
Garam masala powder - 1/2tsp
ü
1)Heat oil in a pan.Shallow fry the paneer cubes on medium heat until golden brown.Set aside.
ü
2)Heat 1tbsp butter in a pan.Add onion paste ,ginger-garlic paste and saute well for 3 minutes.
ü
3)Add tomato puree and simmer for 5 minutes.
ü
4)Add all the spice powders ,kasoori methi and salt , mix well .
ü
5)Add cream and remaining butter to this and boil it.
ü
6)Add the paneer and cashew paste to this.Gently mix well.
ü
7)Garnish with coriander leaves.