Onion Bread
Heyaa!!!! I am sure all r in pink of health. Its gona be all about baking & baking in my blog for few weeks. Those biscuits or may be bread….etc …..Etc. It's been long time I have shared ne bread recipe with you guys…. Common today is the ryt time…. I'll share it with ya all.
When matter comes about time I remember Amma a lot and thtz bcoz wheneva she tells me to do some work I have a answer ready "Amma magiri karta" (Mom I'l do it later). Yeh I was a lazy daughter (not always I must say :P) …………………. Whateva it may be I used to do those work but 'Not In Time'. :P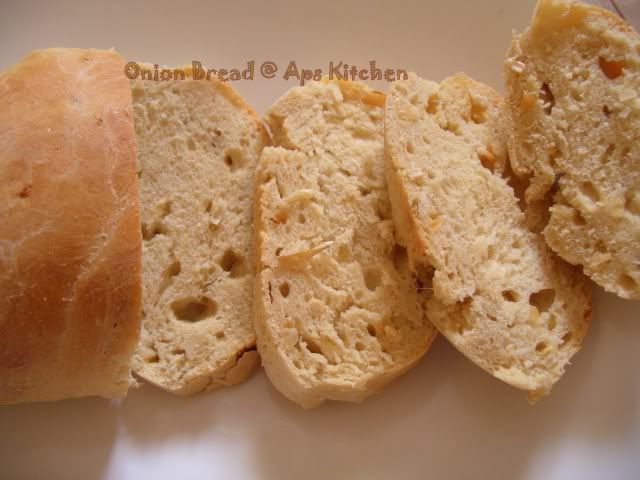 Now I feel very bad for it…. But m sure most of them r very lazy b4 their marriage bcoz they Neva have ne responsibilities or something like tht???? Isn't it??? Anyways I'll keep pulling on my story later…. So how about the bread talks now????
Every time we visited a supermarket (In SA), my hub used to luk at the pack of onion flake as if he is gona grab them from there…..But then it was "donno how it wud taste next time" …but then came a auspicious day :D to buy those flakes….. I must say they ver really tasty (it was just like fried onions)…. I used them in soups..Gravys….etc… etc Then I decided to add them in breads how about A Onion bread (we love onions…. A onion story some other time :D). I tried it my own way…. I must say it ot only was fluffly it was Yummy too…
I wud like to share the recipe with u guys so that u guys can try it out and tell me how it came out….. J
We need:
Wheat flour(Atta) - 2 cups ,Luke warm water - 1 cup ,Salt - 1 tsp ,Olive oil - 2 tbsp,1 tbsp active Yeast, Onion flakes - 7-8 tbsp, Sugar - 1 tsp.
Method:
Place yeast, sugar and milk in a bowl and mix to combine. set aside in a warm place for 5 minutes or until bubbles begin to form on surface.
Mis together the flour, salt, oil and yeast mixture,onion flakes in a bowl and mix until a smooth dough forms. knead on a lightly floured surface for 5 minutes or until smooth and elastic, adding a little extra flour to the dough if it becomes too sticky.
Roll it into a round shape and allow to rest for n hour or more.
Now knead the dough again nd mix well nd rest it for another hour. ( roll the dough into the shape u want to bake rectangular or round)
Preheat oven at 350F
So if u see onion flakes ne where do not stare Just buy them :D.
Don worry if u don't get onion flakes then u can fry then until golden brown and ad them up too

Tastes Yum Yum
when u add lozza love
in it.
Till My Next Post,