Bread Pizza with a Veggie Salsa
Have left over bread at home?? Thinking what to do??? So was I doing!!! But now I don't need to…. Bcoz I have many options…. I use them in chapathis, make rolls, Sandwiches, and now Pizzas…. Yeh U heard it ryt Bread Pizza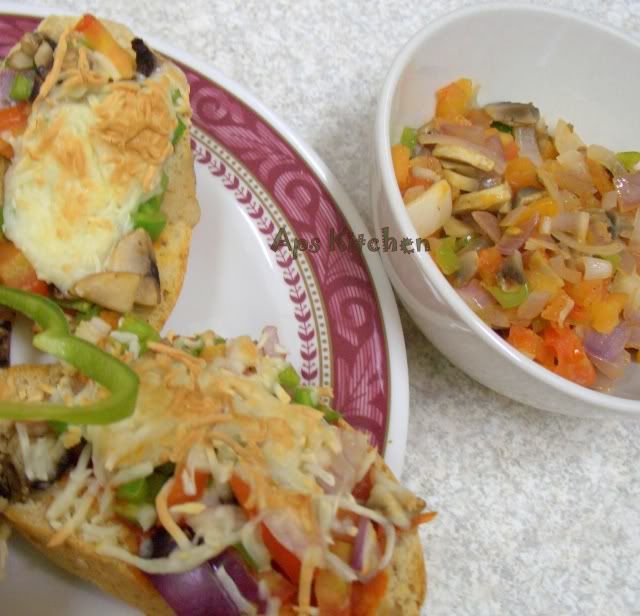 My last post was regarding bread so I thought it wud be great to post something related to it, here is the recipe.
We Need:
Bread Slices – 6-7
Pizza sauce – ½ cup
Vegetable (corn kernels, mushrooms, tomato, capsicum – all three colors, onion
Mozzarella Cheese Grated- 1 cup
Italian seasoning (rosemary, basil, thyme, oregano) – to sprinkle on top
Salt to taste
For the Pizza Sauce:
Directions
In a small bowl, combine tomato paste, water, Parmesan cheese,garlic, honey, onion powder, oregano, basil, ground black pepper, garlic powder,red pepper flakes and salt; mix together, breaking up any clumpsof cheese.

Sauce should sit for 30 minutes to blend flavors.........
Cut all the veggies into small dices and saute them (no need to add oil).
Place bread slices on a baking tray. Apply pizza sauce on all the slices. Spread all the vegetables.
Sprinkle salt on every slice (make sure u don't add much salt).
Sprinkle mozzarella cheese & Italian seasoning on top of each slice.
Bake it for 5 minutes or until cheese melts @ 350*F


Yumilicious Bread Pizza is ready to serve.

Tastes Yum Yum
when u add lozza love
in it.